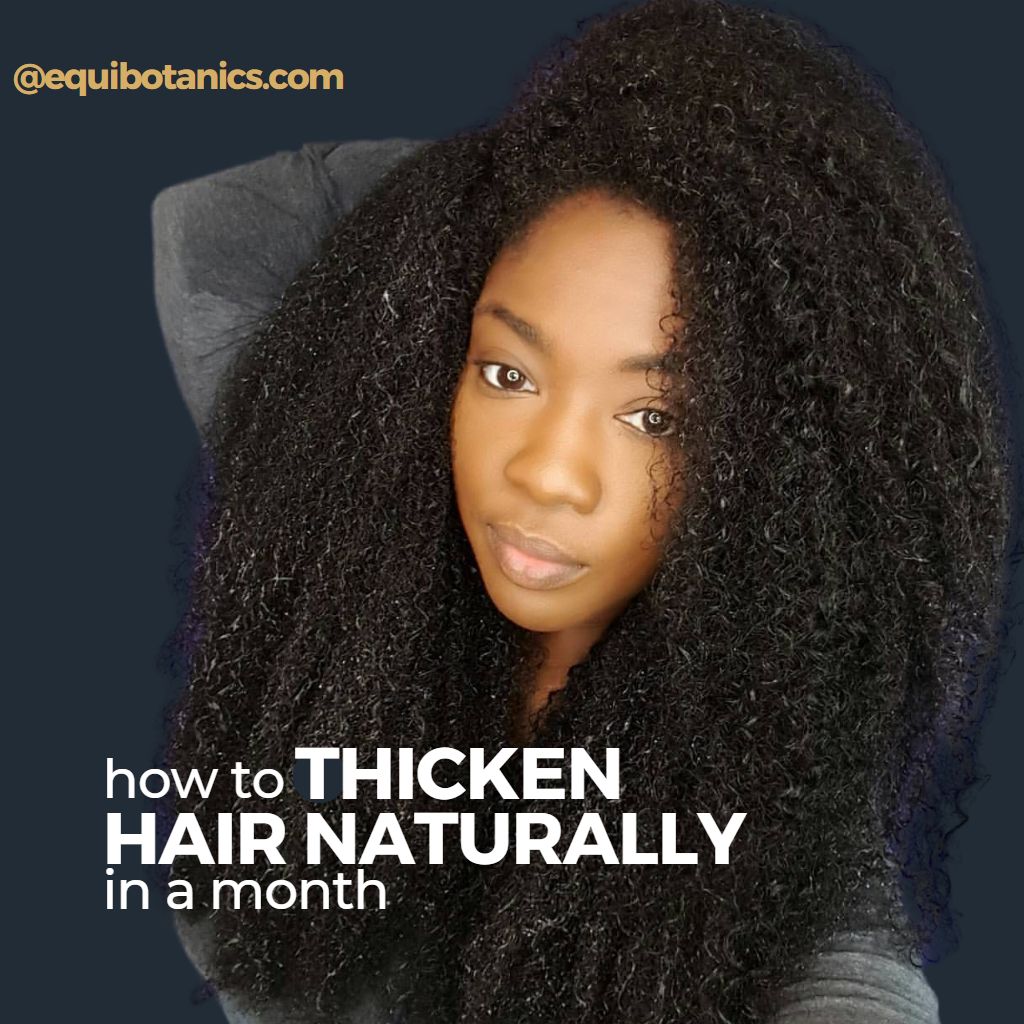 How to Thicken Hair Naturally in a Month (Proven Method)
If you struggle with thinning hair, it's understandable that you find yourself getting frustrated when looking to achieve a thicker, fuller look. It can be disheartening when we see so many people around us with healthy, thick heads of hair.
This isn't an uncommon experience, however, and fortunately, there are ways to thicken hair naturally in a month. Simply follow the thicker hair tips detailed within this guide to see surprisingly quick results!
11 Ways to Thicken Hair
Hair loses its thickness for a variety of reasons; from poor diet and age, to the products we use, to follicle stress from hair styles. With our inexpensive and easy-to-follow solutions, the voluminous hair of your dreams is achievable. All it takes is some patience and consistency.  Our top 11 tips are going to show you how to start to get thick hair in a month:
1. Eat a Balanced Diet
The health of your hair is very much connected to the foods you eat and the vitamins you obtain from them. The type of food you consume is scientifically linked to the thickness (or lack thereof) of your hair.
Hair requires high levels of protein, as well as vitamins B12 and B7 (biotin), vitamin A and vitamin C so start including foods in your diet that are high in these nutrients.
As well as making dietary changes, you may wish to consider taking a supplement to give you a further vitamin boost. Many health stores and supermarkets sell supplements specifically for hair health which makes the choice much easier, and you don't need to spend a lot of time working out which vitamins help your hair to grow!
Another important nutrient to include in your diet is Omega-3 as this is known to encourage hair growth; increase your intake of this with fatty foods such as salmon and avocado.
2. Maintain Hydration Levels
We're all aware of the importance of drinking water and keeping our bodies hydrated. What's perhaps less widely known is how essential water is for the health of your hair and in determining how quickly it grows.
Drinking around two litres of water a day will keep on top of your scalp hydration levels helping to prevent dandruff, a dry and itchy scalp, hair loss and breakages.
Dehydration can halt hair growth as well as making it brittle and prone to snapping which will further delay your pathway to thicker hair, so this really is amongst the quickest and most inexpensive fixes out there.
3. Go For the Chop
One of the best ways to get longer, thicker hair in 30 days is to get a haircut. Whilst this won't directly stimulate growth, it creates a healthier environment for your hair to grow by removing any dead, broken ends.
Style wise, if you're happy to lose some length in return for super thick hair, consider going for a new hairstyle such as a bob, or even a lob (long bob) as this will provide instant thickness – that's because the longer your hair, the more its weight pulls on your scalp and thus creates a thinner look. If a big chop isn't your vibe, ask your stylist to pop in some choppy layers to create the illusion of volume.
4. Look After Your Scalp
Scalp health is important whatever the hair goal, however when it comes to growth and thickening your tresses, you're going to want to make this a focus. Ultimately, the scalp is the foundation for your hair and if that isn't healthy, then your journey towards thicker hair will be impacted.
A great way to support scalp health is to stimulate blood circulation to the area through massage. Combine a scalp massage with using hair oils, which can act as natural hair remedies to thicken hair.
If you're wondering what oil is best for the thickening of hair, then we'd recommend black seed oil, which is renowned for its hair growing abilities; it works to increase blood circulation, boost growth and prevent further hair loss. Babassu oil is also another great oil you can use to promote growth.
We'd recommend using the Black Seed Oil Hair Elixir, simply apply a small amount of the oil and gently massage into the scalp, using the excess to strengthen the lengths and ends.
Although you won't need to apply an oil every day, a daily 5-minute scalp massage will help to promote blood flow and don't forget, you can use massage techniques whilst shampooing or applying a hair mask, too!
5. Brushing Techniques
There can be some fear surrounding hair brushing particularly if you've noticed that your locks are thinning, or that you're suffering from hair fall. The most important thing when it comes to brushing is balance.
Too much brushing can further encourage hair loss and place stress on the scalp but, believe it or not, too little brushing can cause the same issue as it results in a buildup of grease as well as knots and matting; these may then have to be removed rather than teased out/untangled, leading to a loss of hair.
Gently brush your hair once a day to distribute natural hair oils from scalp to ends and rid any build up of knots. If you come across a knot, detangle gently rather than yanking through it! Avoid brushing hair when wet as this is when your hair is at its most delicate and more susceptible to breakages.
6. Don't Over-Wash
If you have thin hair, it can be tempting to apply a large quantity of products and wash hair daily to plump up your locks, but this isn't necessary. The key to washing thin hair is to avoid over-washing and use targeted products from washing to styling that will help to strengthen and thicken. This is partly because the thinner your locks, the more likely they are to break, but also, the overuse of products can also weigh hair down leading to a thinner look.
We'd also recommend introducing a weekly hair mask, such as the Babassu Oil Treatment Hair Masque, which protects dehydrated locks, improves scalp health and is rich in essential vitamins and nutrients. Applying a mask weekly should help to avoid the flatness that overuse can give but also improve the overall look, feel and strength of hair.
Try to stick to washing your hair between 1-2 times a week and if your hair begins to feel greasy or flat, then refresh it with dry shampoo which helps to soak up excess oil and grease from the follicles but also gives a much-needed volume boost.
How to Wash Thin Hair:
Thoroughly wet your hair
Apply a sulphate-free shampoo to the scalp and roots. You'll only need about the size of a ten pence piece's worth. Don't forget to give the scalp a good massage to encourage blood flow!
Next up, pop some conditioner on to the ends which will rid your hair of knots and help to repair your locks without weighing it down and losing volume.
Finally, wash the shampoo and conditioner out at the same time.
Dry gently with a microfibre towel to avoid breakages.
7. Choose the Right Products
So, we've established that over-washing is a no-go, but you also need to make sure you choose the appropriate hair care products. Always look for products that have thickening or volumizing qualities; it would also be beneficial to avoid products containing sulphates and other nasty chemicals. Chemical shampoos and conditioners can strip the hair and scalp of natural oils which further encourages breakage, and thus thinner hair.
When it comes to shampoo, choose a naturally-derived formula that is sulphate free! The Baobab Hair Detangler & Cleanser works to cleanse and repair hair naturally and would be a great option to support hair health. Formulations that are enriched with nourishing oils such as jojoba, almond or coconut oil, will work to strengthen and clean hair without stripping it of its natural oils.
If you're looking for products to thicken black hair naturally, consider the Afro Hair Care Growth Set which has been specifically formulated for afro hair to encourage growth as well as to strengthen and thicken hair! Read our afro hair-specific guide on how to encourage faster growth, here!
8. Style it Right
Post-wash is just as critical when it comes to helping to thicken your hair. You'll want to avoid heavy, rich products such as gels and creams that can weigh down thinning locks.
Opt for lightweight formulas such as mousse, salt sprays or hair powders which all work to give limp hair an instant thickening boost.
Try to avoid placing your hair in tight, restrictive hair styles on a regular basis as this can cause further stress to hair follicles and lead to more fall out.
9. Reduce Heat Styling
Of course, a blow dry or curling tongs can help in the short term to give the impression of thick, full hair. However, the intense heat exposure can damage and weaken locks resulting in breakages or fall, out as well as reducing growth.
Where possible, keep styling with heat tools for special occasions and allow hair to air dry regularly. If you can't stick to this, then reduce the temperature setting and use a lightweight, heat-protectant spray.
10. Natural Ways to Thicken Hair
When you're suffering from hair loss or thinning hair, it's likely you'll want to steer clear of any harsh, chemically based products, and you'd be right to do so! There are plenty of ways to thicken hair naturally and these include:
Eggs-

high in protein, eggs are a great ingredient when it comes to how to thicken hair naturally. Try making an egg hair mask which can work as a natural hair thickener!

Castor oil-

a popular ingredient used by the Caribbean community as a method for how to thicken black hair. Apply a small amount of castor oil to the scalp twice weekly to improve moisture levels and thicken the hair shaft.

Aloe Vera-

Try mixing aloe vera with coconut oil for an extra healthy treat for the hair and scalp that encourages growth.

Marula Oil-

marula contains oleic acid allowing the oil to penetrate the hair shaft, boosting hair growth, repairing damaged follicles and strengthening cellular membranes.
11. Fake it Until You Make it!
Whilst some might advise hair extensions to fake volume, this is actually counterproductive as the stress that extensions place on your locks and, in particular, the scalp, could further discourage growth in the longer term.
Overuse of extensions can cause traction alopecia, a type of hair loss that comes about because of pressure applied constantly to the roots which damages the hair follicles.
The good news, however, is that it is possible to fake it 'till you make it and grow thicker hair fast with some clever hair styles that create the illusion of thicker, volumized hair. Styles that give the appearance of thicker hair include a fluffy ponytail or a textured half up, half down do.
Another style that offers one of the fastest ways to thicken hair is curls – but don't reach out for the tongs! Give the dressing gown method a try (if you've never heard, see TikTok!). This is a great way to get hair volume naturally without the need for heat.
Follow our simple step-by-step for curls you'll swoon over:
Begin with damp hair
Fold a dressing gown tie on your head and keep in place with clips
Part the hair in to two sections
With the first section, wrap the hair around the tie as if creating a braid. Secure and repeat with the second section.
Leave overnight
Undo the next morning, brush through with a wide toothed comb and you're good to go!
Why Has My Hair Thinned?
Thin or thinning hair can occur for a variety of reasons, and is a common hair complaint that affects many people. Factors that contribute to thinning hair include:
Poor diet

Stress

Scalp health

Illness

Ageing

Allergic reaction

Hormones

Genetics

Extensions or harsh hairstyles
Whilst it isn't possible to change hair textures, it's possible to make your hair thick again by encouraging hair and scalp health. Remember to keep your growth expectations realistic as hair, on average, will only grow half an inch a month. If, after a month, you've noticed that your hair isn't growing at all then it's worth looking at remedies and treatments specifically for when hair growth is absent.
You may be wanting to know what the fastest way is to get thicker, more voluminous hair, but one key part of hair growth is patience. The speed in which you will see results will also vary depending on your hair condition. Set realistic goals and you'll be amazed how much longer and thicker your hair is in 30 days' time.  
Frequently Asked Questions
How Can I Keep My Hair Thick?
The best way to retain thickness is to stick to a consistent hair routine using naturally-derived, gentle products that don't weigh the locks down, as well as maintaining a healthy balanced diet that contains all the key vitamins and nutrients that are essential for hair and scalp health. The better condition you keep your hair and scalp in, the thicker your hair will stay!
What Foods Should I Eat to Grow Thicker Hair?
The following food sources are great to include in your diet to grow thicker hair:
Nuts and seeds

Salmon

Leafy greens (eg. spinach)

Eggs

Yoghurt

Beans
Remember to look for foods high in protein, B vitamins as well as vitamins A and C to support your hair growth journey.
Conclusion
Following our 11-step guide, as well as remaining realistic about your hair growth, will show you that your thin hair can be thick again. Using these simple (and affordable) natural methods that can be carried out in the comfort of your own home, you'll be sure to see some fabulous thick hair results in no time, whatsoever!