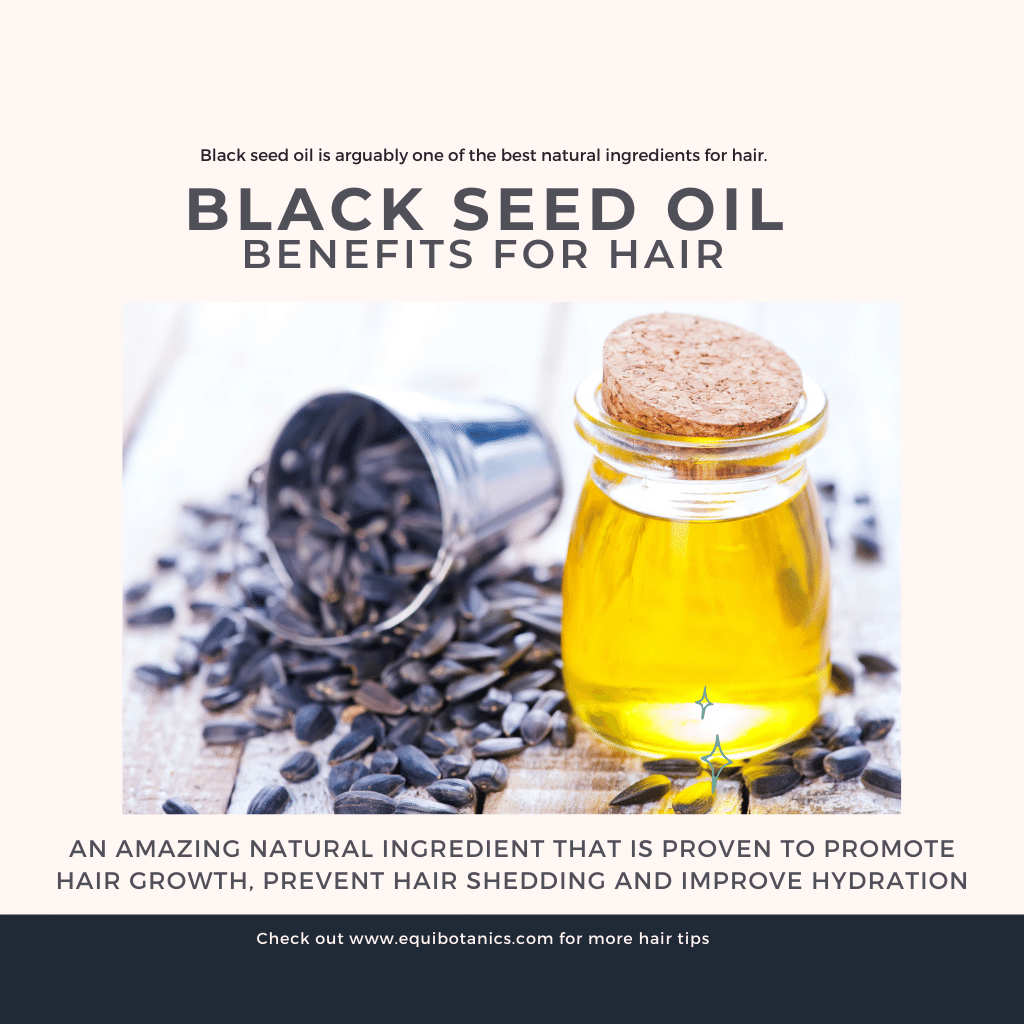 7 Crazy Benefits of Black Seed Oil For Hair | Growth, Styling, Care
Take the Hair and Wellness Quiz
Take our 60 second quiz and unlock the
answers to achieving the hair you dream of!
Take The Hair Quiz
× close
Key Summary
Black seed oil has a number of medicinal and beauty benefits including promoting hair health, reducing hair loss, easing acne, reducing inflammation, and lowering blood sugar levels. 

Black seed oil is also known to help with dandruff and injecting more moisture in to hair. 

You can ingest black seed oil as a supplement for more a medicinal focused treatment, however, for hair health benefits, it is best applied topically as an external treatment. 

Use black seed oil as a deep conditioning treatment, a daily hair and scalp treatment, or as a hair oil for protective styling.
What is Black Seed Oil?
A powerful herbal ingredient, black seed oil is known for its medicinal and beauty properties. It has been used in traditional medicine for over 2000 years and can be used to treat a variety of conditions including headaches, hair loss, acne, and inflammation.
So, if you are wondering whether black seed oil is good for you and worth using, it most certainly is!
Where Does Black Seed Oil Come From?
Black seed oil is made by extracting oil from the seeds of the Nigella Sativa plant, which is a flowering shrub that originates from southwest Asia. Black seed oil has been used for centuries as a form of natural medicine as it contains thymoquinone, a powerful antioxidant which removes free radicals from the body. This can help with a range of health conditions and is also used to treat dry skin and hair.
Is black seed oil good for hair?
If you've been navigating the world of hair products for any time longer than the typical shampoo and conditioner user, you have probably come across black seed. Just like us, you are no doubt now wondering if black seed oil is good for your hair? This is a question we get asked on a regular basis. The simple answer is yes, black seed oil is one of the best natural remedies for hair, as it contains almost everything you need to nourish and maintain your hair.
To help you understand more about black seed hair oil and the many advantages, we will look at it's origins and the many benefits of using black seed on our hair.
Black Seed Oil Benefits
Using black seed oil can see it help with the following:
Inflammation
Lowering Blood Cholesterol 
Asthma
Ezcema
Psoriasis
Acne
Diabetes
Reducing blood pressure
Autoimmune disorders
Promotes heart health
Protecting against cell damage and chronic disease
Treating headaches
Promotes wound healing
Supports hair health
Can prevent metabolic syndrome
Dandruff
What Does Black Seed Oil Do For Hair?
Black seed oil is arguably one of the best natural ingredients for hair, as it has antibacterial, antifungal anti-inflammatory properties which protect the hair and scalp while also locking in moisture in the hair shaft. 
Black seed oil can be used to treat a wide range of hair and scalp conditions, such as:
1. Black Seed Oil For Dandruff
If you suffer from dandruff, black seed oil is an excellent natural remedy, especially when you apply it directly to the scalp on a daily basis. This will not only soothe the itching but it will also reduce the flakiness, improve root strength and enhance the look and feel of your scalp and hair.
2. Black Seed Oil For Hair Growth 
Black Seed oil definitely helps with hair growth. Black seed oil hair loss treatment is used by so many naturalistas who deal with various hair conditions. Whether you are experiencing a small amount of shredding or you have alopecia, black seed oil can help you on your hair growth journey. 
Don't believe us? Checkout Rosemary's hair growth miracle after using blackseed oil and a few of our other favorite hair growth items. 
For the best results, you should apply black seed oil twice a day, making sure you massage it thoroughly into the scalp, as this will increase blood circulation in the hair follicles, which can stimulate growth. 
Our Black Seed Hair Oil Elixir
This Black Seed Oil For Hair is enriched with Fenugreek, Brahmi and Bhringaraj ayurvedic oils, our first hair serum is your best bet to reaching your hair goals. 
Stop split ends
Stop itchy scalp
Help accelerate growth 
3. Black Seed Oil For Hair Hydration
The majority of people with curly or coily hair suffer with a dry scalp or dehydrated hair which not only feels dry but also looks drab and unloved. By using black seed oil on a regular basis you will start to notice a massive difference to your scalp especially, as the oil will lock in any moisture, making the hair more luscious and healthy-looking. 
How to Use Black Seed Oil For Hair
There are a variety of ways you can use black seed oil for your hair. At Equi Botanics, we recommend a range of methods when using our Black Seed Hair Oil Elixir which suit different issues and hair types, including:
4. Daily Hair Treatment
For daily use, you should apply a black seed oil product after using our Marula Leave-in Conditioner. All you need to do is apply a small amount on the hair which will lock in moisture, strengthen the hair shaft and provide amazing shine.
Marula Oil Leave in Conditioner
The Marula Oil Leave in Conditioner is jam-packed with natural high performing goodness, it can be used on its own without extra oils or butters. Say good-bye to the hassle of LOC or LCO method of conditioning. The Marula oil leave-in is a 3-in-1 as it works as a leave-in, is based on an oil and it's a cream, saving you time and money.
5. Daily Scalp Treatment
If you suffer with a dry or itchy scalp, then you should apply our Black Seed Hair Oil to your scalp everyday. When placing it on the scalp, you should massage it in to enhance blood circulation which will not only help with irritation but can also prevent hair loss and boost growth.
6. Protective Styling
If you put your hair in protective styles, such as box braids or cornrows to protect it from external damage, you can add further protection by using black seed oil. Using the oil will also help with any itchiness you may experience, as the oil can be applied underneath your protective style to soothe the scalp.
7. Deep Treatment
For damaged or dry hair, you may need to apply a deep treatment to revitalise the hair follicles. We recommend applying our black seed oil to damp or wet hair, place a plastic cap and leave it to work its magic for around forty minutes. For really dry hair, you may also want to mix it in with Babassu oil  and use it as an overnight hair mask. In the morning, you can rinse it all off, apply leave in conditioner and style as usual.
Frequently Asked Questions
How Long Does It Take For Black Seed Oil To Work?
The effect black seed oil has on the hair will vary depending on your hair type or how damaged your hair or scalp is. 
For instance, some people apply a treatment overnight and the next morning they notice a difference immediately, however, for those dealing with more severe dryness or scalp problems, they may only see results after two weeks of regular use. 
Can black seed oil be used on all hair types?
Black seed oil is a versatile oil that is suitable for all hair types, including curly, afro, straight, and coiled locks.
Can black seed oil be used on coloured or chemically treated hair?
Black seed oil is safe to use on coloured or chemically treated locks but we would always recommend a patch test on a small amount of hair to ensure there are no adverse reactions as individual experience can vary.
Does black seed oil have any side effects?
Black seed oil is generally safe for external use on the hair and scalp but we would always advise that you discontinue use if any irritation or adverse reactions occur. When ingested, black seed oil has been known to cause issues in some individuals, such as with kidneys or digestion, however research on this is limited. External use has not flagged such issues.
Can black seed oil be ingested for hair benefits?
While black seed oil is primarily used topically for hair benefits, it can also be ingested in small amounts for overall health but we would recommend consulting with a healthcare professional before consuming black seed oil as a supplement.
Can black seed oil be mixed with other oils or hair products?
It is possible to mix black seed oil with other carrier oils, such as coconut oil or jojoba oil. You could also add it to existing hair products like shampoos, conditioners, or hair masks for enhanced benefits.
How Our Black Seed Hair Oil Elixir Can Help You
Black seed oil is an amazing natural ingredient that is proven to promote hair growth, prevent hair shedding and improve hydration. Therefore, putting black seed oil in our elixir was a no brainer due to the many benefits it offers. 
To find out more about Black Seed Hair Oil Elixir, you can visit our shop or get in touch with us to get a better understanding of our products and how they can aid your hair issues.