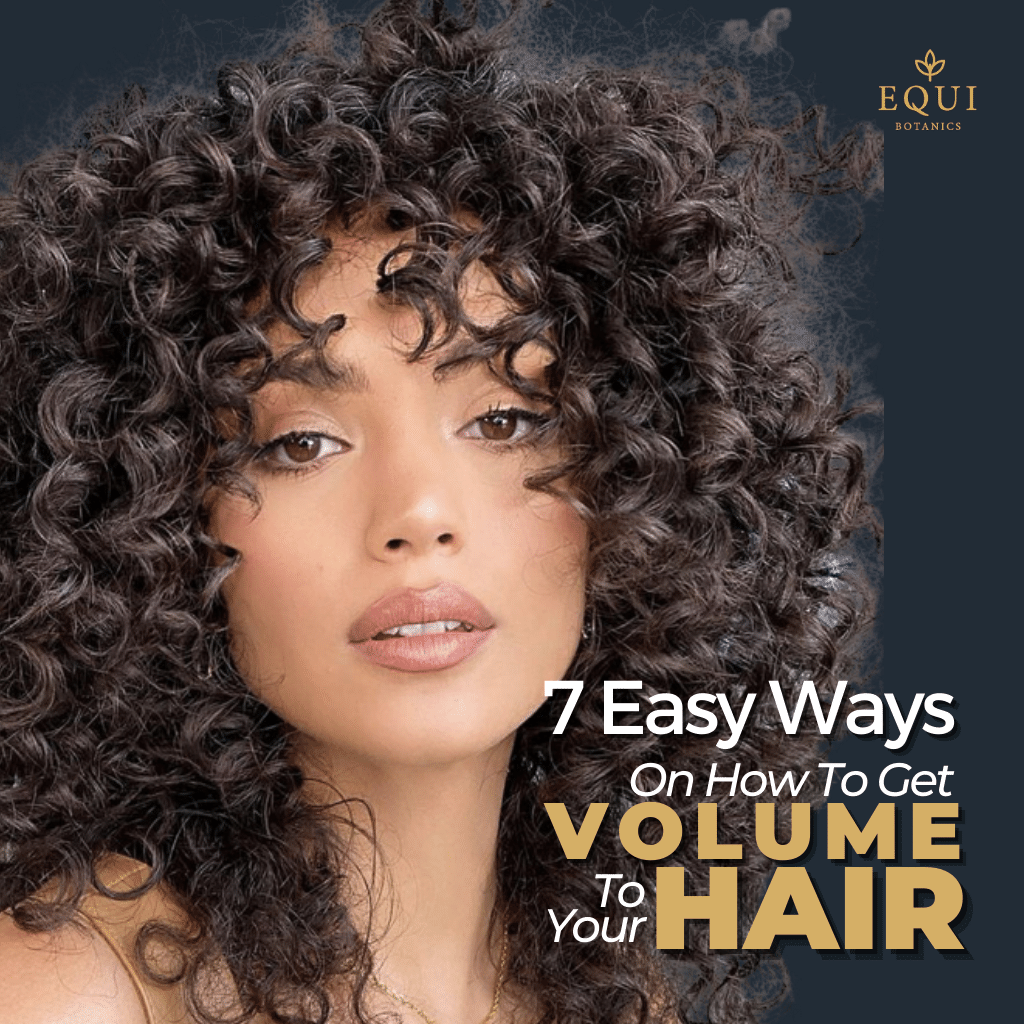 7 Easy Ways On How To Get Volume In Your Hair
Take the Hair and Wellness Quiz
Take our 60 second quiz and unlock the
answers to achieving the hair you dream of!
Take The Hair Quiz
× close
Voluptuous, bouncy hair is the hair dream we all aim for and for those of us with thin hair, it may well seem a distant one. 
Fine hair is prone to lacking bounce and volume but with some changes to your hair care routine, it can be achieved. From changing the way your hair is cut to the products you are using, read on to discover our tips and tricks on how to regain hair volume, in no time at all!
1. Styling
One of the easiest ways to get volume in hair naturally is to change the way you style it. There are a whole host of ways to add volume and bounce to your hair from a blow dry to rollers. Curling hair is a particularly great way to increase your hair volume and whilst you can use a curling wand, this can dry your tresses out leading to breakages and even finer hair than you already have. Rollers are a great way to get volume at the roots but will give your locks a fullness that can't be achieved with a wand.
How to curl hair with rollers: step-by-step guide
Rough dry hair

Separate hair into two-inch sections

Place a roller at the bottom of a section, rolling up all the way to the roots

Ensure hair is fully dry before removing rollers

Use a curl comb to loosen in to soft, bouncy waves

Finish with a styling product that will protect, nourish and add shine to your hair such as the 

Black Seed Hair Oil Elixir

. Black seed oil is known as a home remedy for hair fall too so if you feel that your fine hair is a result of loss, a product containing this wonder oil will be of 

maximum benefit

.
2. Cut
If you are stuck in a hair rut and can't seem to work out the answer to your flat hair problems, perhaps a trip to the salon is in order. Let a hairstylist work their magic with a haircut that will create the illusion of thicker, bouncier hair. 
You'll need to be open to the potential of reducing the length as, sadly, the longer fine hair is, the flatter it tends to get. Reducing the length to a shorter style will instantly inject some volume into your locks, even if it's just a couple of inches. Some ideal hair cuts for finer hair include:
The Lob

: a long bob which sits between the chin and shoulder

The Bob:

shorter than a Lob, with more of a jaw line length

Pixie:

a textured crop

Shoulder:

probably the longest someone with fine hair can afford to go, cut an A-line in (shorter at the back, longer at the front) for a modern shape.
If you already rock short hair or aren't keen on losing length with a hair reinvention, ask your hairdresser for some layers.  Layers add shape and dimension to a hairstyle and can further create the illusion of fuller hair. Be careful not to overdo it though as otherwise you can end up with stringy looking hair that's even finer.
On the other end of the spectrum, have hair cut all into one length- although it might require more shape adding to it through styling, hair always looks at its fullest when it's one length.
3. Products
We're all guilty of using products that don't suit our hair type but with fine hair, it is particularly important not to do that.
Fine hair is exceptionally prone to oiliness which can further flatten your locks. Using creamy, thicker shampoos that are more suited to thick hair can also be contributing to the lack of volume in your thin hair. When purchasing a shampoo, be sure to select one that promises thickness and bounce as that is going to be the best for increased hair volume.
It is essential to get the balance right as you don't want to over-wash hair, not only can products weigh it down, but it can cause a moisture overload that leaves hair susceptible to breakages. 
Step-by-step: how to wash fine hair
Wet hair and pop on a targeted shampoo, opt for those that promise thickening actions, volume and bounce. Only apply the product to the scalp and roots.  

Pop

conditioner on

,

but only to the ends. This will help tackle any

tangles

and keep hair hydrated without overloading it and weighing tresses down from the roots. 

I would suggest using at least about a 10p coin amount.
Rinse out the shampoo and conditioner at the same time. The shampoo will rinse down over the conditioner, helping to remove it.
Post-washing, there are some great styling products that will help to boost flat hair, for example, mousse. Whilst many of us might have throwbacks to the 80s when we talk about hair mousse, it has come a long way and modern formulas provide much needed volume to fine, flat hair without the crispy finish. If we can't convince you with mousse, spritz in some salt spray or dry shampoo for added volume and texture!
4. Natural ingredients
With a wide-ranging variety of hair care products on the market, it can sometimes be hard to know what you are popping on your locks. Ditch the sulphates and other hair nasties that come in many big brand shampoos and switch to naturally derived products to restore volume and keep hair in good condition.
Product build up is particularly common from chemically made products as well as styling products such as gel, hairspray, or mousse. Rinse hair with apple cider vinegar every two weeks to break down product residue and reveal more volumized tresses.
Whilst you may shy away from oils for fear of further greasing your hair, introducing a hair oil could be of huge benefit to fine hair and help you to volumize hair naturally. Marula oil is one of the best oils for thickening hair. It's easily absorbed and doesn't leave a greasy residue on the locks but helps to support scalp health and, more importantly, promotes and encourages growth.  Using a product like the Marula Oil Leave In Conditioner will give your scalp the nourishment it needs whilst leaving a shiny, natural volume to the hair.
5. Drying tips
Fine hair can be more brittle than most, meaning heat exposure is not ideal. One way to counteract this is to let hair air dry which tends to give it more bounce once dry. If you find your hair drops throughout the week, add in some product such as a dry shampoo to give it more texture and volume.
Of course, one of the best ways you can create natural volume in hair is to blow dry it. Whilst this isn't ideal for heat exposure, you can apply heat protectant and use a regular mask to counteract damage from this.
Blow drying upside down is one great way to inject volume straight at the root but if that isn't for you, take a large, barrelled brush, sectioning it off and pulling hair up towards the ceiling. Once the desired volume is achieved, set hair with a blast of cold air from the dryer.
6. Change your parting
One of the quickest ways to add volume without the permanency of a haircut, is to change your parting. Over time, your hair becomes accustomed to its parting and will naturally lay flatter. Switch it up with a side change, or go straight down the middle, for a quick and easy way to make hair thicker and fuller.
7. Diet
Consider eating your way to hair healthier, thicker, more luscious locks! Foods that are known to make hair thicker include eggs, spinach, oily fish and nuts. Adding certain vitamins and minerals to your diet are known to promote hair growth and density, meaning your thin hair can be thick again!
Increase your intake of the following to see quick hair health results:
Vitamin A

Vitamin B

Vitamin D

Biotin

Protein

Zinc
These vitamins and minerals are all found in everyday foods, but it may also be worth taking a supplement to further boost your intake and see vast improvements to the quality and thickness of your locks!
It's also important to keep hydrated and on top of your water intake. Dehydration can affect your scalp health leaving it itchy, dry, and flaky which can therefore contribute to breakage and impact hair density. Aim for 8 glasses of water a day to maintain hydration!
Why does hair lose volume?
There are a few reasons that hair loses volume and, believe it or not, it's a medical issue. Loss of hair volume is down to one of two conditions, androgenic thinning or telogen effluvium.
Androgenic thinning is when hair follicles shrink because of increased sensitivity which then leads to loss of volume in the hair. Telogen effluvium is when hair falls out prematurely, generally due to a shock to the system, which leads to excess shedding. Typically, a person loses anywhere between 80-100 hairs in a day but those with telogen effluvium can shed up to 300 hairs in a day.
Other, less common causes of a reduction in volume and hair loss include:
Androgenic alopecia

Alopecia areata

Auto-immune conditions

Hereditary conditions
These conditions are more commonly associated with permanent hair loss. If the following tips mentioned above don't improve your hair volume and loss, it may be worth seeking medical advice.
We've got to the root of it!
As you can see there are plenty of simple ways to restore volume to fine hair, so let's keep the flat for pancakes and enjoy voluminous, bouncy locks for the rest of our days! Switching to these techniques will help you get thick hair in as little as a month, so it is well worth testing them out to see what works best for you and your hair.