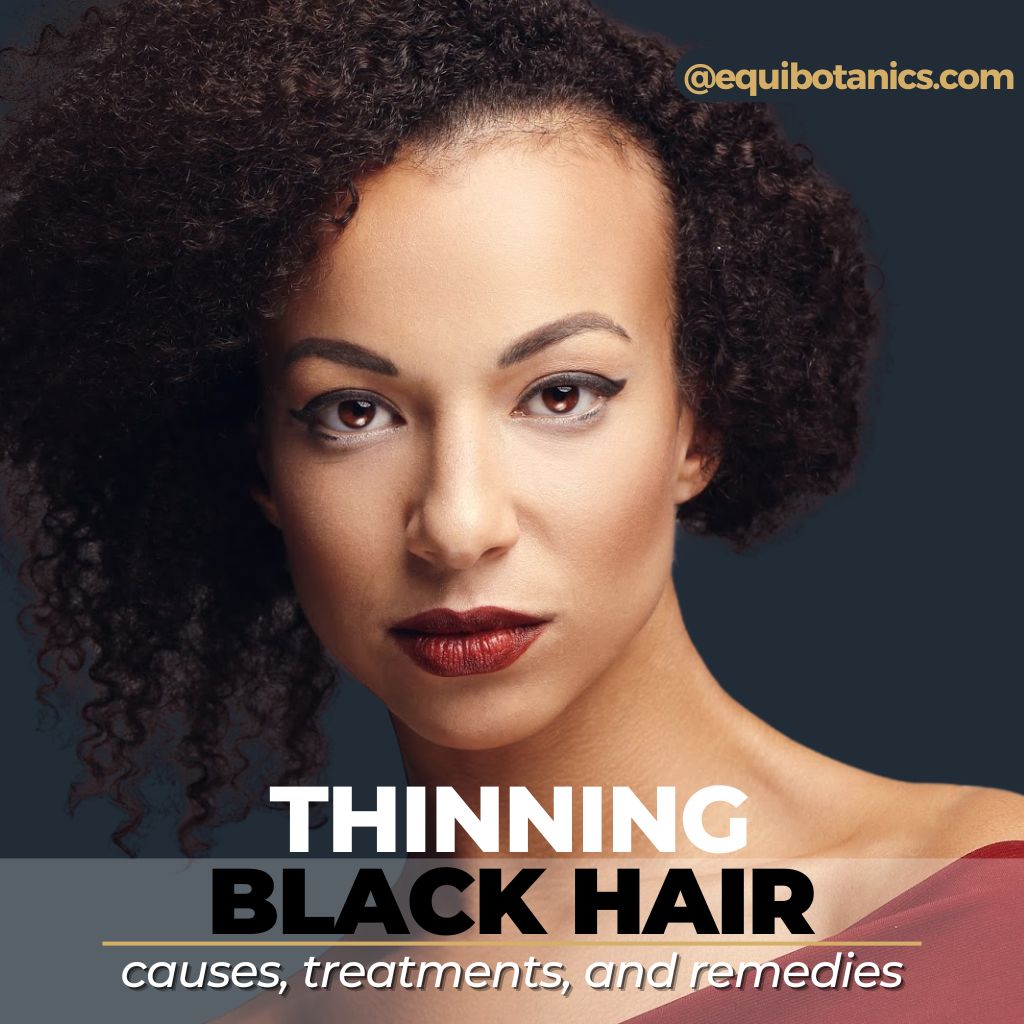 Thinning Black Hair | Causes, Treatments and Remedies
Take the Hair and Wellness Quiz
Take our 60 second quiz and unlock the
answers to achieving the hair you dream of!
Take The Hair Quiz
× close
Thinning hair is a common occurrence amongst black women. It can especially impact those who regularly use braids and weaves although stress, age, and health conditions can also have an effect, causing hair loss and thinning.
It can sometimes be difficult to find the right advice or remedies, but the good news, however, is that it can be treated. There are both natural and medical methods that can be taken to restore thinning locks, so keep reading as we're here to provide all the solutions!
What Causes Black Hair to Thin?
Initially it can be hard to determine if you are suffering from hair loss as the changes happen gradually. If you notice that your ponytail isn't so thick, or that you can see more of your scalp than usual then you may be suffering from thinning afro hair. Identifying the causes of your thin afro hair can help you to take preventative measures; this is easier than having to treat more extreme cases of hair loss further down the line.
• Hairstyles
Regularly wearing your hair in tight, restrictive hairstyles such as ponytails and braids, as well as using hair extensions and weaves, can damage your hair and lead to traction alopecia.
According to Dr Paul Farrant, a Consultant Dermatologist at Brighton & Sussex University Hospital, African hair has decreased elastic fibres making it more susceptible to this type of hair loss.
With regular use of these hairstyles, you're particularly likely to see thinning around the temples and hairline.
• Over-processed hair
Regular application of hair colour, relaxers and perms can weaken your afro locks and cause thin 4c hair.
• Hair brushing
It's important to be careful when using a hairbrush, especially if you have particularly knotty hair. Yanking a brush through a knot can pull out excessive strands and cause unnecessary stress to the follicles.
• Heat styling
Regular blow dries and styling using heated tools can lead to damage and weaken your tresses. One of the biggest issues that female afro hair encounters is dehydration and using these hot tools can further dry your locks out.
• Stress
Suffering from stress can have a negative impact on the condition and health of your hair as it pushes large numbers of follicles into a resting phase, meaning they shed. This is known as telogen effluvium.
• Medical conditions
Mental stress is not the only cause of telogen effluvium; surgery, such as a hysterectomy, can also trigger it. Suffering with illnesses such as thyroid disorders, anaemia and autoimmune diseases can also lead to hair loss and thinning.  
• Diet
A lack of certain vitamins and nutrients can affect blood circulation to the scalp, moisture levels, keratin production, tissue renewal and follicle strength. Your body can sometimes lack these vitamins due to underlying medical conditions, or if you make changes to your diet – switching to veganism, for instance.
• Scalp conditions
Scalp conditions such as dandruff, eczema and dermatitis can lead to hair thinning and loss on account of the itchiness that results in scratching. This scratching can cause damage to the follicles and scalp, in turn causing hair to fall out.
• Hormones
It's common for women to experience thinning hair and shedding during and after pregnancy, as well as during the menopause, due to a fluctuation in hormone levels.
Treatments
If you're looking for solutions and wonder what's good for your thinning black hair, then consider one of the following treatments:
Massage
Many people forget about the importance of scalp health, but this is where all the growth begins! If you're looking to avoid a balding afro, performing a daily scalp massage will help stimulate blood flow to encourage growth. Massages can also eliminate dead skin cells to reveal a healthy starting point for your afro locks to grow faster.
On hair wash day, apply Black Seed Oil – a known hair growth oil for black hair – to the scalp and perform a longer massage. Using a product such as the Black Seed Hair Oil Elixir, will stimulate regrowth by encouraging blood circulation and healing scalp conditions as well as working to prevent hair loss.
Hair care products
When it comes to shampoo and conditioner, choose specific products for hair growth in black hair and try to avoid harsh chemicals like sulphates. A naturally-derived range such as the Afro Hair Care Growth Set, which is packed full of natural ingredients such as Marula Oil will keep your tresses moisturised, stimulate black hair growth and keep it protected.
Supplements
Taking a supplement can increase your levels of vitamins and nutrients which are essential for hair health and growth. Sometimes elements of your lifestyle, such as switching to a vegan diet, can impact on the number of vitamins and nutrients you get. You can get specific vitamin tablets formulated to target hair but the vitamins and nutrients most important for hair health include:
Vitamin A
Vitamin B (especially Vitamin B7, known as biotin)
Vitamin D
Vitamin E
Magnesium
Medication
If you're concerned by the volume of hair loss and thinning you're experiencing, then a trip to the GP may be in order. They'll be able to ascertain if there's a condition such as female pattern baldness occurring. In this case, you may be prescribed Minoxidil which is clinically proven to help and reverse hair loss.
Lifestyle Remedies
Of course, not all treatments need to involve purpose-designed products or medication. There are plenty of lifestyle remedies that you can adopt to prevent your black hair from thinning. These include:
Diet
Maintaining a healthy balanced diet will do your hair the world of good as this is what helps to keep your hair healthy. Eating foods rich in the following vitamins and nutrients will be hugely beneficial to your hair:
Protein: This will help to balance the moisture in your thinning 4C hair, maintaining both health and strength, as well as preventing dry, brittle locks. Protein also helps to reconstruct damaged hair strands.
Vitamin B: The B vitamins are essential for your hair, in particular B7, as this stimulates keratin production and increases the follicle growth rate.
Zinc: Assisting with cell tissue growth, zinc also plays an important part in keeping your scalp hydrated as it helps the scalp's oil glands to produce enough sebum.
Iron: This nutrient works to deliver oxygen to the hair follicles as well as helping the body to use protein to strengthen hair.
Natural Remedies
If you would prefer more natural methods to help with your thinning hair then are some great home remedies you could introduce, such as apple cider vinegar or onion juice. Simply rinse through your hair with one of these to help improve circulation, increase volume, naturally thicken black hair and break down product build up.
Reduce heat
It's well known that heat styling damages hair, drying it out and leaving it prone to breakages and loss. Try switching to air drying your hair after washing. If you really can't cut out your hair dryer, then at least turn the heat down to a lower setting.
Change styles
If you find you're suffering from signs of traction alopecia, consider the following steps to encourage signs of hair growth for black hair:
Remove braids after three months. If you have particularly thin hair, then braids may need to be avoided for a while.

Ask your stylist to create looser braids or dreadlocks.

Remove weaves or extensions after 8 weeks.
Frequently Asked Questions (FAQs)
"How can I strengthen my 4C natural hair?"
If you're looking for ways to strengthen and grow your thin 4C hair, then one of the best ways is to keep hair moisturised using naturally-derived products such as hair mask and oils. Reduce heat styling, get regular haircuts and take care of your scalp health.
"What is good for thinning black hair?"
Of course, if you notice thinning hair it can be distressing and you may wish to seek medical advice; doctors will often prescribe Minoxidil for hair loss. If you would prefer to go down a more natural route, consider using haircare products with naturally derived ingredients such as babassu oil, rosemary, marula oil, and jojoba that work to moisturise the scalp and hair as well as encourage growth.
"How can I grow my thin 4c hair?"
One of the most important elements when it comes to growing 4C hair is moisture. Get into the habit of deep conditioning once a week, and don't forget to keep your scalp hydrated too as that's where all the growth begins!
Conclusion
Thinning hair can be treated although it's important to remember that there's no overnight fix. Many changes are simple, affordable and easy to do at home but remember to be patient and consistent to support your hair health and get the most sustained results.