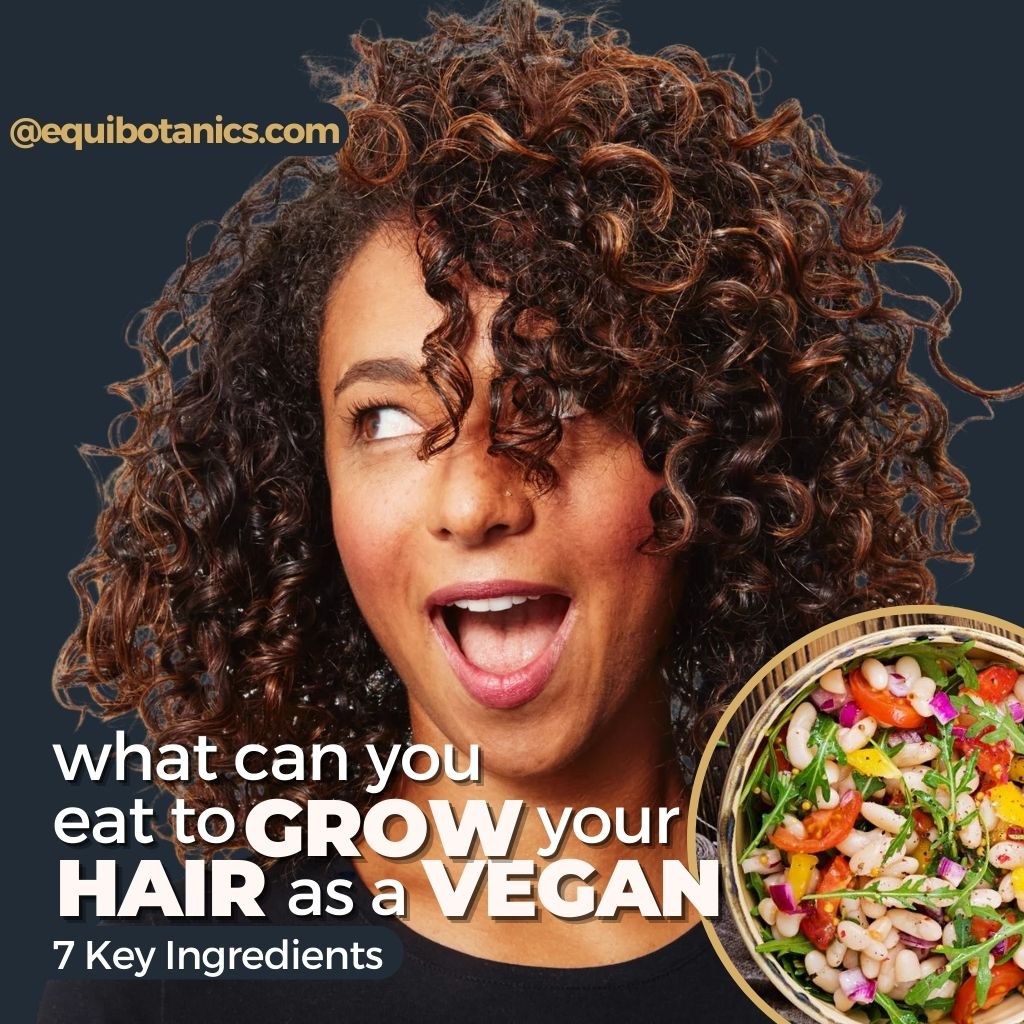 What Can You Eat to Grow Your Hair as a Vegan? 7 Key Ingredients
Take the Hair and Wellness Quiz
Take our 60 second quiz and unlock the
answers to achieving the hair you dream of!
Take The Hair Quiz
× close
As more and more vegan-friendly food becomes available, it has never been easier to follow a plant-based diet, with a 3% rise in the number of people turning vegan in 2021.
With plenty of benefits including supporting your immune system, increasing fibre in your diet, and lowering blood pressure, as well as the environmental and animal-protection benefits, there are many reasons to switch to a plant-based diet. And contrary to popular belief, a vegan diet can even help hair grow.  
So, if you've been thinking about cutting out animal-derived products from your diet, but you've been worried about how it might affect your locks, then have no fear! We're here to show you what you can eat to grow your hair whilst being vegan.
What Vegan Food is Good for Hair Growth?
1. Lentils
Full of folic acid, lentils are a great addition to a vegan diet. Folic acid is essential for hair growth and cell renewal, but it also restores red blood cells; these supply the scalp with oxygen that's needed for growth.
Lentils are also high in protein, which can be a challenging nutrient to keep on top of within a vegan diet, but it is important to maintain levels for hair growth. What's more, they're a good source of zinc which aids hair tissue growth and repair as well as containing biotin (vitamin B7) which improves the infrastructure of keratin.
Key Benefits
High in biotin, zinc, and vitamin B7

Encourages hair growth and cell renewal

Source of plant-based protein
2. Seeds
Many seeds, such as chia and pumpkin, contain a multitude of vitamins and nutrients meaning they're great to include if you're on a vegan diet looking for thick hair, and to encourage growth.
Hemp seeds, in particular, are known for being rich in omega-3 fatty acids which help to reduce any inflammation in the hair follicles, in turn promoting growth. They're also an excellent source of protein; just 2 tablespoons of hemp seeds sprinkled on top of a meal contains a whopping 10g of protein. They also contain vitamin E, calcium, iron, magnesium, and zinc which are all essential to helping keep hair healthy.
Another great seed type is black cumin, which can be sprinkled raw or toasted over foods, but these seeds can also be applied as an oil directly on to the hair. Commonly referred to as Black Seed Oil, it strengthens hair follicles, promotes scalp health, prevents loss, and stimulates growth. Introduce a product such as the Black Seed Oil Hair Elixir to achieve longer, stronger locks.
Key Benefits
High in protein

Simply sprinkle over meals

Maintain scalp health
3. Nuts
We can't talk about vegan hair growth without mentioning nuts! A great source of protein, nuts are an ideal snack for those on a vegan diet as they help to keep you nutritionally balanced. 
Nuts are also high in zinc which supports your body in growing stronger hair. They're also a good source of vitamin E which helps increase circulation in the scalp leading to healthier, stronger hair.
Walnuts are particularly good for hair growth as they're rich in omega-3 fatty acids as well as vitamin B7, more commonly known as biotin. Biotin stimulates keratin production in hair and increases the overall follicle growth rate.
Other great nuts for hair growth that are worth including in your diet are almond or Brazil nuts as they contain nutrients such as selenium and magnesium that are known to benefit the health of your hair.
Key Benefits
A quick and easy snack

Contain a wide range of nutrient for hair growth

Good source of protein and vitamin E
4. Berries
Berries are packed with antioxidants that work to fight free radicals. Without antioxidants, free radicals are left to cause serious damage to cells which can impact on hair growth.
Also rich in vitamin C, berries support the hair follicles by promoting blood circulation to the scalp. As well as boosting hair growth, berries help to prevent greying locks and provide that all important softness and shine that we all want. So, if you're looking for a fruit that grows hair faster, softer and stronger, then berries are the one!
Key Benefits
Combat free radicals

Support hair follicles

Increase softness and shine
5. Spinach
Spinach is a vegetable that's good for hair and ideal to incorporate into a vegan diet, especially for those wanting to see some growth. This leafy green vegetable is loaded with a variety of important nutrients, including iron, as well as vitamins A, B, and C.
According to a study by the Croatian Academy of Dermatology, a lack of iron is becoming a clear cause of telogen effluvium (TE) in women. Increasing your intake of iron-rich spinach in your vegan diet will help to increase the oxygen supply to follicles, keeping your locks healthy and hydrated which further helps with growth.
Vitamins B and C work to increase the growth rate of your locks by increasing collagen and keratin levels whilst vitamin A, keeps hair strong and nourished. That's one nutritionally dense veggie!
Key Benefits
High iron content

Keeps hair hydrated

Increases growth rate 
6. Nutritional Yeast
Nutritional yeast contains plenty of important B vitamins that work to support hair, including the all-important vitamin B7 (biotin).
Adding a sprinkle of this on top of pasta dishes adds a "cheesy" taste whilst working to improve the growth rate of your hair. So, if you're wondering how vegans grow their hair fast, then look no further! This product also works well in sauces and by adding it in your diet; brittle, fragile locks will be gone and replaced with stronger hair strands, instead.
Key Benefits
Adds flavour to food

Restores brittle locks

Increases growth rate
7. Cacao
Cacao is the seed used to make both cocoa and chocolate. It's made into a powder that has a bitter taste, but that bitterness contains within it a high magnesium and sulphur content. Sulphur helps to replenish and stimulate hair follicles which promotes healthy hair growth.
Cacao is also a good source of protein which balances the moisture in your hair to keep it healthy and strong. Protein will also help to reconstruct and strengthen damaged hair strands. A lack of protein in your diet can leave your locks dry, brittle and more prone to breakages.
Key Benefits
Stimulates hair follicles

Strengthens damaged hair

Balances moisture 
Frequently Asked Questions (FAQs)
"What drinks are good for hair growth?"
Kiwi juice is rich in vitamin E, and regular consumption will stimulate hair growth as well as minimise loss.
"What foods can I eat to regrow hair?"
According to a study by The Trichological Society, vegans should increase their intake of soy to encourage hair growth as this works to decrease the risk of a biotin deficiency. Biotin deficiencies cause undernourished hair follicles, slowing growth and causing hair loss.
Conclusion
There's a known link between your diet and the health of your hair. Switching to a vegan diet can negatively impact hair growth if you don't substitute vitamins from animal-derived products with plant-based alternatives. But if you're wondering how vegans get thicker hair, then focus on essential vitamins and nutrients to ensure your hair health is at its optimum to encourage growth.