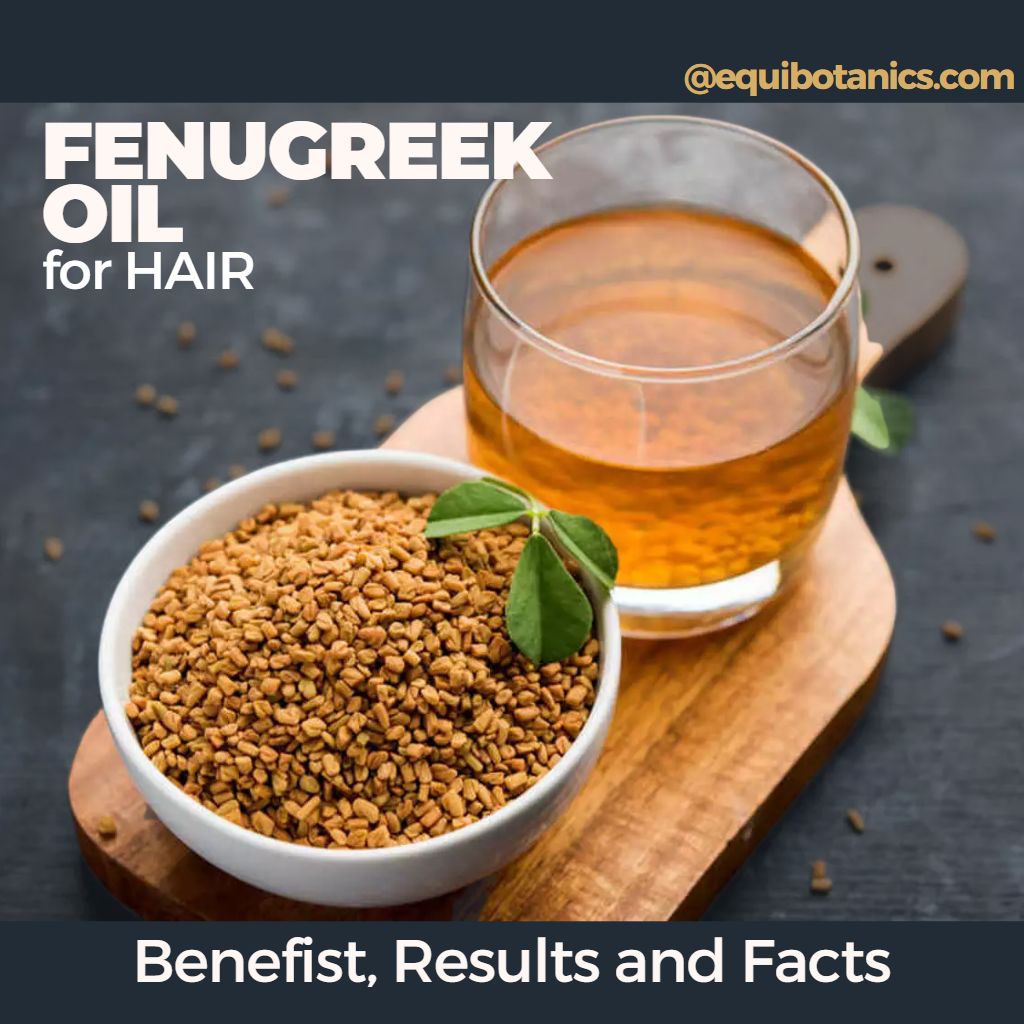 Fenugreek Oil for Hair | Benefits, Results and Facts You Should Know
Take the Hair and Wellness Quiz
Take our 60 second quiz and unlock the
answers to achieving the hair you dream of!
Take The Hair Quiz
× close
If you prefer natural hair care ingredients to treat and cleanse your locks, you may have already come across fenugreek oil. Sometimes also known as methi oil, it's derived from seeds and is an excellent natural, at-home hair remedy that can help to treat thinning hair, dandruff and a dry, itchy scalp. 
If you haven't previously heard of fenugreek oil for hair, you might be nervous about introducing it to your routine, especially if you're experiencing issues such as hair thinning. We're here to set your mind at ease, giving you all the benefits and critical facts you need to know about this wonder oil.
Key Takeaways on Fenugreek Oil
Although there is limited research, studies that have been carried out on the link between fenugreek and hair growth offer positive results.
Fenugreek oil deeply penetrates the scalp and hair to provide moisture, stimulate hair growth, strengthen locks, and soften the overall texture. 
Fenugreek also has antifungal, anti-inflammatory, antibacterial and pesticidal properties that work to promote greater overall hair health.
What is Fenugreek Oil?
A small leafy green herb frequently found in southern Europe, the Mediterranean and western Asia, fenugreek oil is often used for both culinary and medicinal purposes. With a distinct, bitter flavour, it's used in teas, curries and stews. It is also used in Ancient Chinese and Ayurvedic restorative practices as a herbal supplement to reduce cholesterol and improve digestion, blood sugar and inflammation. 
With a high nutrient and protein content, fenugreek hair oil is highly effective against common issues such as hair loss and balding. This rich oil works to penetrate the hair and scalp, providing essential nourishment. The hydrating properties of fenugreek oil also work to fight dandruff, strengthen brittle hair strands, soften dry locks and stimulate growth.
Fenugreek Benefits for Hair
Fenugreek oil is good for hair as it's a great source of iron and protein, two essential nutrients for hair growth. It features an impressive range of plant compounds, including flavonoids and saponins, which have anti-fungal and anti-inflammatory benefits. Its main benefits include:
Black Seed Oil Elixir With Fenugreek
This Black Seed Oil For Hair is enriched with Fenugreek, Brahmi and Bhringaraj ayurvedic oils, our first hair serum is your best bet to reaching your hair goals. Stop split ends, check. Stop itchy scalp, check. Help accelerate growth, check check check. 
We've jam-packed this little bottle with luxurious ingredients from the Caribbean, India and the Amazonian rainforest to give you longer, thicker, and stronger hair in less time.
1. Fenugreek for Hair Growth
Brimming with nutrients and proteins that are great for hair health, fenugreek oil is known to be effective for those suffering from thinning locks or baldness. It penetrates the scalp deeply to provide an extra hydration dose that strengthens hair. With a high content of lecithin, this oil moisturises hair while strengthening the roots and reactivating hair follicles at the same time.  
2. Fights Dandruff
Fenugreek's high levels of protein and nicotinic acid can help prevent dandruff. The presence of saponins in this oil also works to keep microbial infections under control. It can soothe any itching resulting from dandruff whilst gently cleansing and moisturising the scalp.
3. Treats Hair Lice
Fenugreek has strong pesticidal, antibacterial and antifungal qualities, which makes it an excellent home remedy for treating head lice. Its antiseptic nature means it can kill lice and their eggs for an effective (and natural) treatment.
4. Promotes Scalp Health
Applying fenugreek oil directly to the scalp will have a positive impact on scalp inflammation and its overall health. Its anti-fungal and anti-inflammatory properties create a robust, healthy and nourished base from which hair can grow. It's also a natural antioxidant that will help reduce oxidative stress to the hair follicles caused by exposure to free radicals.
5. Adds Shine
Fenugreek oil contains mucilaginous fibre, which encourages moisture absorption. This helps to boost the moisture barrier in your hair strands which, in turn, increases shine and improves the hair's texture, leaving it softer.
6. Discourages Greying Locks
The high iron and potassium content in fenugreek can help increase the minerals required to enhance melanin production (which is what gives colour to your locks) in the hair follicles.
Results When Using Fenugreek Oil
Although scientific studies on the use of fenugreek for hair are limited, there have been breakthroughs in research demonstrating a clear link between fenugreek for hair loss and health. These include:
A

study in 2021

by Dr. Sanusi Umar and Dr. Marissa J. Carter, saw patients with various hair loss conditions use botanicals (including fenugreek) to treat them. It was found that the extract made a significant anti-inflammatory contribution to the scalp and alleviated oxidative stress that causes damage to the follicles. 
Research by a

German medical team

into the impact of food supplements on hair loss demonstrated "favourable effects" when the treated volunteers used fenugreek. 
Frequently Asked Questions (FAQs)
Can I Use Fenugreek Oil for Hair Daily?
You can use fenugreek oil daily on lengths and ends to add moisture and keep locks protected, but we wouldn't recommend using it on the scalp every day, as this could lead to build-up and tresses that need washing more frequently. 
When used in a more diluted format – for instance, if it is an ingredient within a serum – then you may be able to use it more frequently, but we would recommend following the product's directions.
How Long Does it Take for Fenugreek to Grow Hair?
Fenugreek oil will work to stimulate hair growth with consistent use, and you should start to see a change in not only growth but shine and texture, too, within 3 to 4 months. After six months, you should see a significant difference in regrowth and a reduction in hair fall.
How Can I Use Fenugreek Oil for Hair Growth?
Studies have shown that fenugreek oil does increase hair growth, and there are several ways in which you can use it. You could consider taking it orally, as a supplement, or in a more diluted format with a product that uses fenugreek oil alongside other potent, natural ingredients, such as our Black Seed Hair Oil Elixir with fenugreek, which is known to help hair loss. Other application methods include:
Scalp Treatment: If you want to use fenugreek oil for your hair more frequently, you can apply a small amount to the scalp and gently massage it to moisturise and stimulate growth. 
Ends treatment: Apply to the lengths and ends of your hair to keep it hydrated and protected against free radicals in between washes.
Pre-wash mask: Liberally use over the hair and scalp, cover with a cap, and leave for 30-40 minutes to restore hair health.
Conclusion
The benefits of using this natural ingredient on your hair are plentiful, and there can be no doubt that fenugreek oil can increase hair growth.
It's packed full of powerful nutrients and minerals that are important to promote hair and scalp health, stimulate growth, and strengthen locks, making it a great tool in the fight against thinning and hair loss.
With various application methods, there are no excuses not to slot this potent ingredient into your hair care routine!