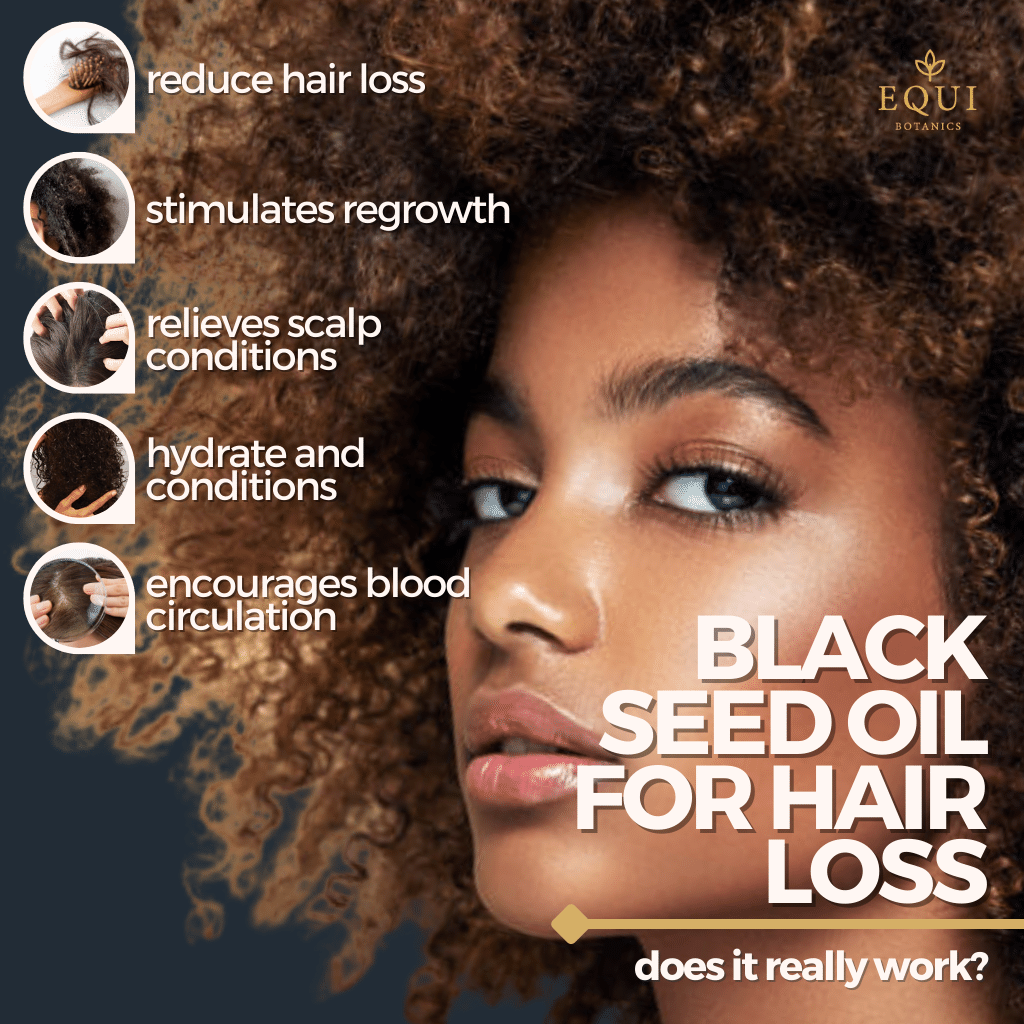 Black Seed Oil For Hair Loss - Does It Really Work?
Take the Hair and Wellness Quiz
Take our 60 second quiz and unlock the
answers to achieving the hair you dream of!
Take The Hair Quiz
× close
When suffering from hair loss, it is more than likely you will have come across black seed oil in your quest to find a fix for your ailment. The ability of this seed to act as a natural hair growth treatment is steeped in history dating back as far as the times of Cleopatra and Ancient Egypt, this wonder seed is said to be behind her lustrous locks.
At first, it's easy to dismiss such a notion that this oil, often billed as a miracle elixir, could possibly help those who suffer with hair loss. However, it is so commonly linked with the relief of hair loss as well as supporting regrowth that it has been the subject of numerous studies, so it becomes apparent that the notion should not be so easily rejected and that Black Seed Oil can play a pivotal part in your hair loss treatment! 
To be clear, Black Seed Oil does work to for hair loss, however, it will not cure you of baldness overnight but with consistent use, in as little as 8 weeks, you will begin to see some positive progress in your hair loss journey.
What Is Black Seed Oil?
Black Seed Oil originates from a flowering plant, Nigella Sativa, that is native to Western Asia, Northern Africa, and Eastern Europe. As well as hair care products, it is used in cooking and medicines. You may have heard it referred to as:
     

Black Caraway

     

Black Cumin

     

Nigella

     

Fennel Flower

     

Roman Coriander
One of its key components is thymoquinone, an antihistamine which provides antioxidant properties to relieve inflammation but other properties it is also known for are antibacterial and antifungal. These healing properties can help support scalp health and hydration.
With its vast range of healing and nurturing functions, using this remedy clearly has its advantages. Let's take a more detailed look at what using a Black Seed Oil product can do for you:
1. Reduce Hair Loss
Black Seed Oil contains multiple nutrients that work to support scalp and hair health. From moisturising the hair shaft to increasing circulation, this antifungal, antibacterial all-around wonder really can do it all! Using a product such as the Black Seed Hair Oil Elixir, with its potent mix of 33 oils, actives and herbs will help you to retain hair but also achieve hair growth through strengthening of the hair follicles and shaft whilst nourishing the ends to prevent breakage. By looking at this black seed oil before and after case study, you can see proven results since one Rosemary started using black seed oil. Upon application of our elixir, there was a clear reduction in bald patches and rapid regrowth.
2. Stimulates regrowth
With its high levels of thymoquinone, black seed oil is great for stimulating hair regrowth. The antioxidant properties of this component help to relieve scalp inflammation and promote scalp health to ensure an ideal base for hair to regrow. This wonder oil works to stimulate hair follicles and balance out unbalanced hair cycles to encourage growth.
3. Relieves scalp conditions
Natural antibacterial and antifungal qualities within black seed oil help to kill off any nasty viruses or fungal infections that may be affecting scalp health. As well as this, the anti-inflammatory nature of black seed oil helps to soothe scalp conditions caused by flakes and sensitivity. Thymoquinone is known to be a naturally soothing agent making black seed oil a real treat for a scalp in poor health!
4. Hydrates and conditions
Oil and hydration tend to go hand in hand, but Black Seed Oil takes this one step further. It is rich in fatty amino acids which helps to seal in moisture at the shaft of hair strands leaving hair nourished with an incredible glossy finish. Being high in antioxidants also helps to neutralise the effects of free radicals on your locks, known to cause hair loss.
5. Encourages blood circulation
Black Seed Oil contains Omega 3 and 6 which are known to promote blood circulation but also the application technique of the oil can further help with this. By massaging the oil into the scalp, you will further encourage blood flow to the area which will, in turn, help support hair regrowth. Blood supply to the scalp is vital to encouraging hair growth as it provides the root with essential nutrients and oxygen so spend some time deeply massaging the oil into the scalp to really reap the benefits!
How does Black Seed Oil stimulate hair regrowth?
It strengthens hair by supporting the hair follicles, locking in moisture. Not only this but a whole host of other characteristics act in combination to have a positive impact on hair loss. These include:
     

Antioxidant

     

Anti-Inflammatory

     

Antibacterial

     

Antihistamine

     

Antimicrobial

     

Antifungal
The anti-inflammatory nature of this oil is critical to hair loss treatment, as this effect helps to calm and nourish the scalp, promoting growth as well as improving hair density.
Interestingly, antihistamines are often prescribed to treat alopecia patients. The high content of Thymoquinone (a natural antihistamine) contained within black seed oil further supports its ability to treat hair loss and support regrowth.
Is there evidence to support Black Seed Oil as a Hair Loss Treatment?
There have been numerous studies in recent years that have demonstrated a clear link between the use of Black Seed Oil, hair loss and regrowth.
A study carried out in 2014 stated that when mixed with coconut oil, Black Seed Oil was effective as a hair regrowth agent. It mentions that Black Seed Oil contains linoleic acid which is hugely important in supporting blood circulation and can be a vital factor for hair loss. Because proper blood flow to the scalp and hair roots, means essential nutrients and oxygen can be delivered sufficiently.
A 2013 study found that, upon topical application, Black Seed Oil acted as an anti-inflammatory and was effective in the promotion of hair growth as well as significantly improving hair density and quality. They also recommended it as an alternative treatment for hair loss.
Final Thoughts
With so many healthy components, it is hardly surprising that Black Seed Oil is touted as a miraculous, wonder oil that has been used for centuries. Even those not suffering with hair loss can gain benefits from using this product from relieving itchy, flaky scalps, to adding instant shine to your locks. This oil covers a heap of hair-related dilemmas.
With some casting doubts on its true hair loss and growth effects, the numerous case studies carried out on the oil work hard to eradicate these questions and demonstrate a truly positive impact on those suffering with hair loss. Whilst effects aren't instantaneous, with a pinch of patience and consistency in application of the oil, users can expect to see the start of results within just a few weeks with a more impactful outcome after 8 weeks.
All you need to do now, is
grab your first bottle of black seed oil
and start the process of transforming your haircare life!