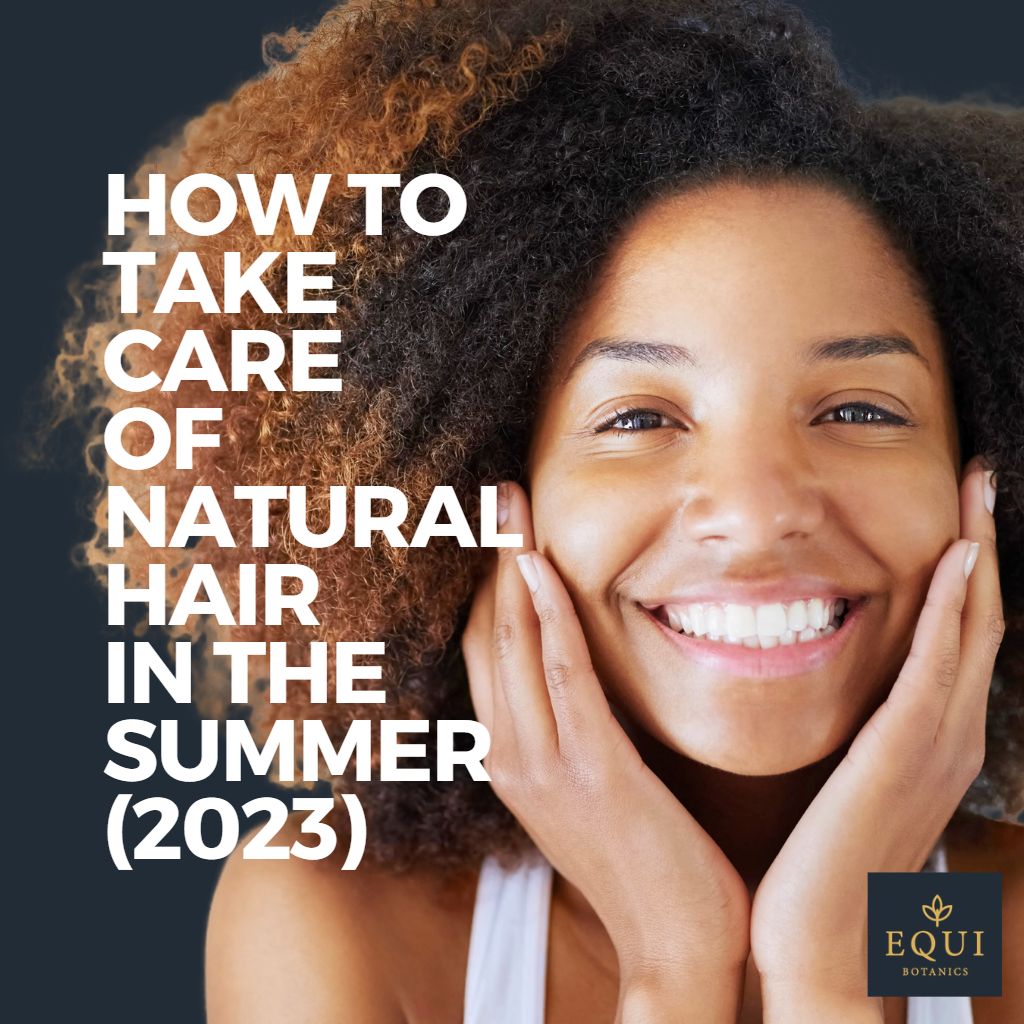 How to Take Care of Natural Hair in the Summer (2023)
Take the Hair and Wellness Quiz
Take our 60 second quiz and unlock the
answers to achieving the hair you dream of!
Take The Hair Quiz
× close
The summer heat can be especially harsh on natural hair, leading to dryness, frizz, and breakage. With the right care and attention, however, you can keep your hair healthy and vibrant all season long. 
So, if you want to know how to take care of your natural hair in the summer, then keep reading!
Key Summary and Takeaways
Natural hair in the summer can be dehydrated, frizzy and suffer from sun damage. 
In summer, locks need help retaining moisture.
Keep locks safe from damage with SPF, protective hairstyles and deep conditioning treatments.
Use natural products as part of your summer natural hair care, such as hair oils and masks, to keep hair nourished and protected.
How to Know What Your Hair Needs in the Summer?
Identifying what your hair needs during summer is crucial to maintaining healthy, strong, luscious locks. The first step is to understand the effects of the hot summer weather on your hair.
Summer weather can lead to hair dehydration, frizz, split ends, and sun damage. Unlike in winter, when our hair needs extra moisture to combat the cold weather, in summer, it's all about moisture retention and protection.
If you're wondering why your natural hair is so dry in the summer, this can be for several reasons. Firstly, the hot weather and exposure to the sun can strip your hair of its natural oils, causing it to become dry and brittle. Secondly, the humidity can also cause your hair to become frizzy, which can lead to breakage. 
To combat dryness, it's essential to use moisturising products and protective styles. You'll want to invest in a hydrating shampoo and conditioner as well as an oil or cream that can support hair, post-wash, and prevent frizz, dehydration, and flyaways.
Summer Tips on Natural Hair Care
1. Use a Moisturising Shampoo and Conditioner
During the summer, it's essential to use a shampoo and conditioner that supports your hair's moisture and rehydrates it. Look for products that contain natural ingredients like shea butter, marula, or coconut oil as these ingredients help to hydrate and nourish your hair, leaving it healthy and shiny. We love the Baobab Detangler & Cleanser for a squeaky clean feel that also softens and moisturises the locks.
Baobab Hair Detangler & Cleanser
We prefer to avoid calling this a detangling shampoo. Instead, we call ours a detangling cleanser because it's softening and moisturising while cleansing thoroughly. It also acts as your pre-poo detangler before you wash. Are you tired of that stripped feeling after you've just washed your hair? Wash your hair not strip it of its natural oils.
2. Deep Condition Your Hair Regularly
Deep conditioning is an essential part of natural hair care, especially during the summer. Heat and humidity can cause your hair to become dry and brittle, making it more susceptible to breakage making it crucial to deep condition your hair at least once a week to keep it nourished and healthy.
Invest in a kit such as the Hair Strengthening Product Set, which includes a deep conditioning mask, serum, and cleanser to support your hair health during the summer months.
Hair Strengthener product set
We've jam-packed our hair strengthener product set with luxurious ingredients to give you a kickstart on your hair growth journey. We've selected our best-selling and hair replenishing treatments as part of the set. And because we really want you to have a great time, we're giving this set away for less than getting each product individually.
3. Protect Your Hair from the Sun
The sun's UV rays can be harmful to your hair, just like your skin, so keep it well-protected from the sun by wearing a hat or scarf when you're outside for an extended period. Consider investing in an SPF for hair as further protection.
4. Use a Leave-In Conditioner
Using a leave-in conditioner is an excellent way to keep your hair moisturised during the summer as it helps to retain moisture, reduce frizz, and protect your hair from heat damage. Look for leave-in conditioners, such as the Marula Leave-In Conditioner, that contain natural and nourishing ingredients that feed the hair.
Marula Oil Leave in Conditioner
The Marula Oil Leave in Conditioner is jam-packed with natural high performing goodness, it can be used on its own without extra oils or butters. Say good-bye to the hassle of LOC or LCO method of conditioning. The Marula oil leave-in is a 3-in-1 as it works as a leave-in, is based on an oil and it's a cream, saving you time and money.
5. Pre-Poo Your Hair
Pre-pooing is a process that involves applying a mixture of oils and conditioners to your hair before shampooing. This helps to protect your hair from the harsh ingredients in shampoo and prevents it from becoming dry and brittle.
6. Use a Microfibre Towel
Regular towels can cause friction and frizz, which is not good for curly hair. Instead, use a microfibre towel to dry your hair. Microfibre towels are gentler on your hair and help to reduce frizz.
7. Use a Curl-Defining Product
If you are looking for summer curly hair tips, one of the best ways to keep your curls looking great during the warm months is to use a curl-defining product. Look for products that contain natural ingredients like coconut oil, shea butter, and aloe vera as these ingredients help to hydrate your hair and define your curls.
You could also consider using a rice water spritz, such as the Rice Water & Green Tea Tonic, that will refresh your locks in between washes adding essential moisture back into your curls.
8. 'Pineapple' Your Hair at Night
Pineappling is a technique that involves gathering your hair at the top of your head and securing it with a scrunchie or a satin scarf. This technique helps to preserve your curls and reduce frizz while you sleep.
If this isn't for you, then you could switch out your pillowcase for a silk one that will also work to limit frizz and retain moisture.
Natural Hair Summer Styles
Summer is the perfect time to experiment with protective hairstyles that are great for natural hair types, including 4C hair, as they offer a great way to protect your hair from damage by keeping it tucked away. Here are some of our favourite styles:
1. Box Braids
Box braids are a popular protective style for natural hair, and they're perfect for summer thanks to their low-maintenance nature. You can easily style them in different ways and they also protect your hair from the sun and humidity.
2. Twists
Twists are another great protective style for 4C hair that are easy to do and can last for up to two weeks. You can style them in different ways, including updos, buns and ponytails.
3. Bantu Knots
Bantu knots are a fun and stylish way to protect your hair during the summer. Simple to do, they are great for short or long hair. You can also style them in different ways, including a half-up, half-down style, or a full updo.
What to Avoid for Natural Hair in the Summer
While there are many things you can do to take care of your summer curly hair, there are also a few things you should avoid. Here are some tips on what to avoid:
Heat Styling
Summer is already hot enough, and exposing your hair to more heat will only make it worse. Avoid using heat styling tools such as flat irons, curling irons, and blow dryers. If you must use these tools, use them sparingly and always apply a heat protectant to your hair first.
Tight Hairstyles
Tight hairstyles, such as cornrows, can put a lot of stress on your hair and scalp, leading to breakage and hair loss. We suggest limiting the time spent using these hairstyles. Instead, opt for looser styles that allow your hair to breathe; you could even consider embracing a natural hair style such as the twist out or simply, wash and go letting your natural curl shine through!
Chemical Treatments
Popular treatments such as relaxers and perms can be damaging to your hair, especially in the summer when your hair is already exposed to the sun, saltwater, and chlorine. If you must chemically treat your hair, do it in the cooler months when your hair is less likely to be exposed to these elements.
Conclusion
Taking care of natural hair during the summer can be challenging, but with the right products and techniques, as well as making the most of protective hairstyles, you can keep your hair healthy and moisturised.
Our top tips for summer natural hair care will ensure you maintain beautiful, hydrated locks that stay in tip top condition for the whole of the holiday season!