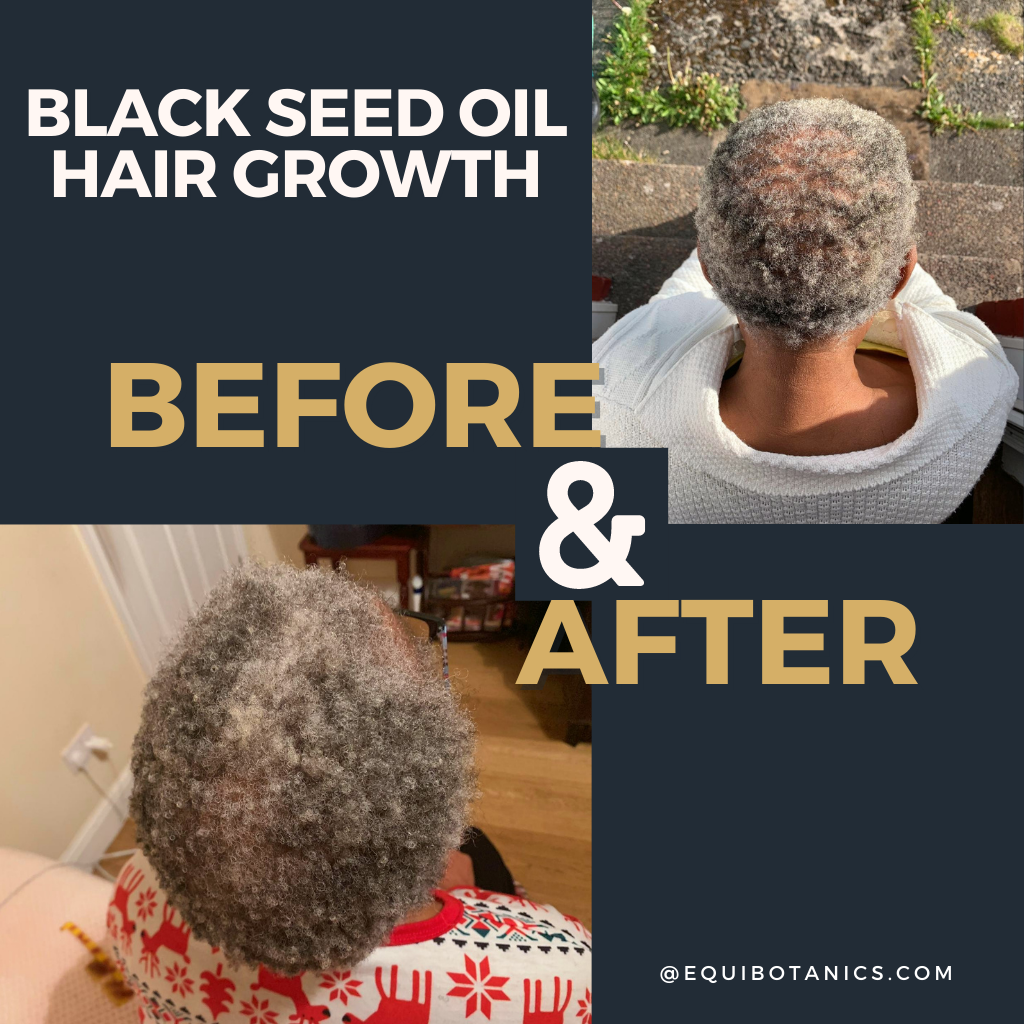 Black Seed Oil Hair Growth Before And After
Take the Hair and Wellness Quiz
Take our 60 second quiz and unlock the
answers to achieving the hair you dream of!
Take The Hair Quiz
× close
Black seed oil is a great treatment for natural hair growth - particularly in stubborn areas. Specially formulated to suit all hair textures, as well as being safe for chemically treated hair, this is a serious serum when it comes to helping your hair - of that there's no doubt!
This all-natural product has taken the hair care world by storm over the past few years, and that's something we're delighted about here at Equi Botanics!
But what is it about this product that means it proves so effective? And over what timescale can you expect to see results? Read this blog post to find out the answers to those very questions!
What is Black Seed Oil?
Black seed oil is oil pressed most commonly from Nigella seeds, but also often Black Cumin seeds, too. The oil offers a more concentrated version of what the seeds offer when ingested in seed form, and has been used for thousands of years thanks to its medicinal properties.
It was used predominantly in the Middle-East, and was even thought to have been discovered in the tomb of the Pharaoh, Tutankhamun. And if it's good enough for a Pharaoh, then we think it's good enough for us! Its general health benefits include:
Helping to lower blood sugar.

Promoting greater brain health.

Easing inflammation.

Aiding with

healthier hair

.
And it's that last one which we're interested in here at Equi Botanics! So, what are the benefits of black seed oil for hair health?
How Can Black Seed Oil Help My Hair?
Black seed oil can help your hair in several varied ways, changing your hair for the better! These benefits include:
Promoting hair growth

- particularly in stubborn areas.

Hydrating and nourishing the hair.

Aiding scalp conditions and promoting circulation in the scalp.

Minimising dandruff.
In other words, it's just an all-around fantastic addition to your hair healthcare armoury! In most cases, you can expect to see results - provided you use it consistently - after between two to three months. Whilst it might not offer an overnight fix, the results it'll give you in the longer run are hard to beat. Don't just take our word for it, though, take Rosemary's…
A Before and After Case Study
For many women in their fifties and sixties, a thinning head of hair is an unfortunately common occurrence. Rosemary was one such woman whose hair had been on the wane for almost a decade before she used black seed oil for the first time.
Having tried everything to re-grow her hair, before ultimately feeling like she had no other choice but to settle for a wig, Rosemary was at her wit's end as to what she could do to tackle the hair loss problem. That's where our black seed oil came in and proved so effective.
Before image - May 
Accelerating Re-Growth With Black Seed Oil After just two months 
Starting with a combination of cleansers, leave-in conditioners and masque treatments from an afro hair growth set, Rosemary started to see hair growth - fantastic! Her hair re-growth journey really took off, however, when she started to use black seed oil, which Rosemary states as having been the product that made "the biggest difference".
After just two months Rosemary's hair was noticeably fuller, and left her feeling more confident - and more like her old self! 
2nd month - July
Dedication and persistence 
That hair has remained in good health, thanks to Rosemary continuing to use these products as part of her daily/weekly hair regimen. She's been using our products for ages now, and we can't wait to see what's next in Rosemary's hair care journey! This is what she looked like within  months of using black seed oil on her hair…
8th month - December 2020
Rosemary's whole journey over 15 months…
How To Apply Black Seed Oil To Your Hair
What, then, is the best way to apply black seed oil to your hair? Well, there are actually various different ways you can apply it, depending on the results you're after. These include:
Scalp treatment

(

daily

). To soothe and encourage a healthier scalp, simply pump a couple of handfuls of oil and massage over your entire scalp. Make sure to leave the oil in, rather than rinsing it out. This treatment can be applied daily.

Heat styling

. When you've sectioned your hair, apply a small amount of oil per section as you blow-dry your hair; this can help protect against overly drying out.

Ends treatment

(

daily

). Simply pump some of the black seed oil into your hands and massage into the ends of your hair; again, as with the daily scalp treatment, there's no need to rinse or wash out the oil - it can be left in.

Hair treatment

(

daily

). Once you've applied your leave-in conditioner, you can then apply your black seed oil to help improve your hair's sheen and strength. Again, this is a treatment that can be performed daily.

Hot oil treatment

. Used on either dry

or

damp hair, apply the oil to your hair before covering with a shower cap or steamer, leave for 40 minutes, then proceed to wash your hair as normal.
What Are The Side Effects Of Black Seeds?
When ingested (rather than applied topically, in oil form) black seed can cause sleepiness, and when black seed oil is applied, it can sometimes cause an allergic rash. It's best, therefore, that you initially only use a small amount of the oil, just to make sure you're not allergic to it. Generally speaking, however, black seed oil hair has only limited potential side effects.
Final Thoughts…
Black seed oil is a fantastic product for your hair, helping not only with promoting hair growth, but also with general hair health, shine, moisture and more! If you'd like to find out more about our vegan and
all-natural hair products
, then get in touch!