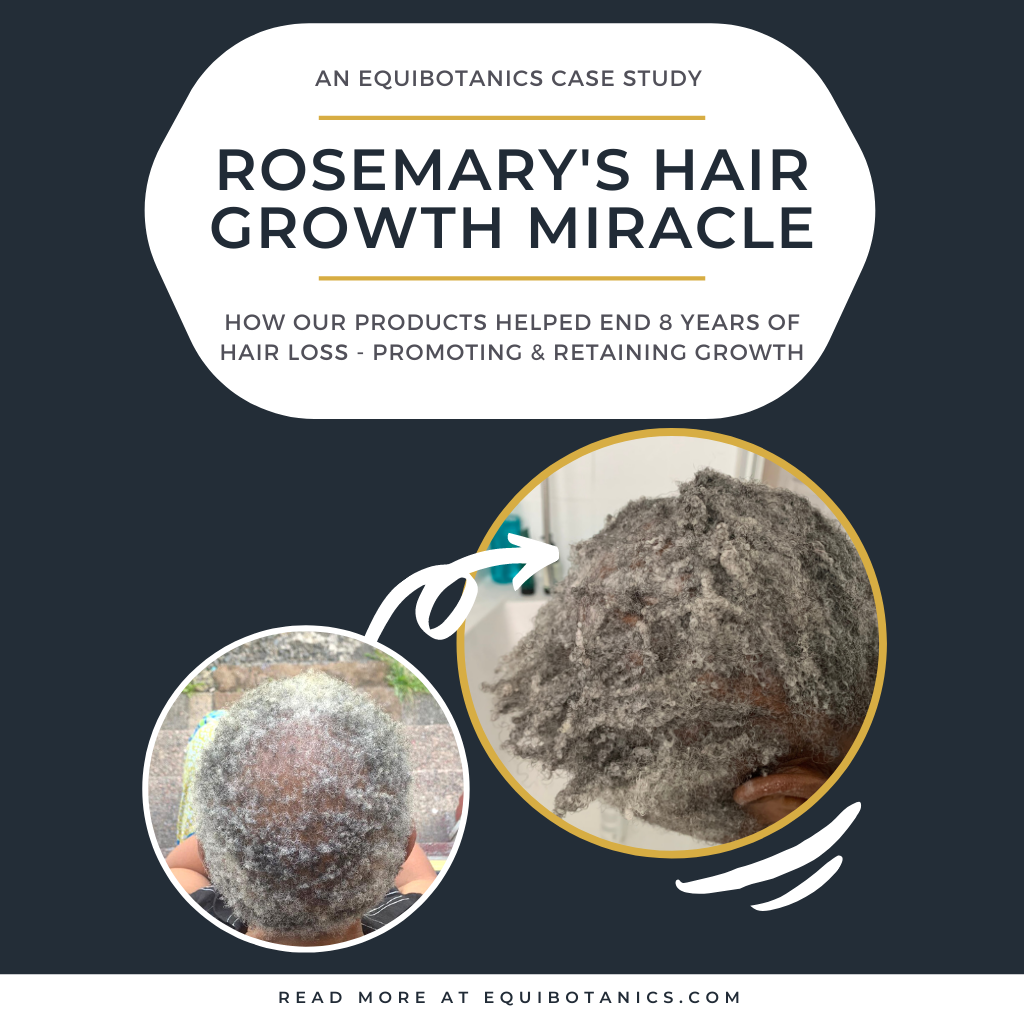 Case Study: Rosemary's Hair Growth Miracle
Take the Hair and Wellness Quiz
Take our 60 second quiz and unlock the
answers to achieving the hair you dream of!
Take The Hair Quiz
× close
If there's one thing we love more than hearing about your hair journey's - it's sharing them! 
In this post, we'll meet Rosemary, a nurse in her sixties who has been dealing with hair loss for the past eight years. We'll also get to hear about her fantastic hair breakthrough and the steps she took to get to this point. 
How it all started
Rosemary began relaxing her hair in her thirties and regularly visited hair salons to help her with the upkeep. When she moved to the UK, there weren't many salons in her part of the county that catered to Afro hair. As a result, this made looking after it increasingly difficult. The UK's colder weather patterns didn't help either, as she found her hair becoming drier than usual and breaking more often.
'When I moved to the UK, I had long, chemically relaxed hair. I'd been relaxing my hair for years and usually wore it in small braids (extensions). I also didn't give much thought to what products I used, so I bought anything that looked good. After a couple of years, I noticed my hair stopped growing, always seemed fragile, and constantly broke. It broke so much that I lost all my edges and the hair in the middle of my head.'
Rosemary shared that every time she took down her braids, it seemed more of her hair would fall out. Eventually, she decided to quit the relaxer as she suspected it could be what was causing the problem. 
Hiding the hair loss
We hear from so many women battling this issue, and almost all of them say the biggest impact it has on them is feeling insecure and ashamed. Our hair is our crowning glory, so when we start to lose it, there's bound to be a dip in our self-confidence and self-esteem. 
In Rosemary's case, she did everything she could to nurse her hair back to health, but nothing seemed to work. The only option she felt she had left was hiding the hair loss under a wig. 
'When my hair stopped growing, I tried so hard to get it to fix it, but nothing seemed to work. I gave up completely because I couldn't understand why it wasn't growing. I was so embarrassed about going bald and wouldn't dare to step out of the house like that. As a result, I've been wearing wigs for the past eight years. It's been so long that I can't even remember the last time I wore my hair out on its own.'
Being brave and trying something new
When we heard about what Rosemary's was going through, our heart went out to her, and we knew we had to help. We recommended she start a simple regimen immediately using our Babassu Deep Treatment masque and Baobab Moisturising Sulphate Free Cleanser.  
'I'll be honest; I had my doubts when I first heard about the products. I thought they only worked with people with growing hair and not on those with hair loss levels I was experiencing. I heard about Equi Botanics from my daughter, who recommended it and convinced me to give it a try. I'd seen the products were working well for her, so I threw caution to the wind and went for it.'
In just a few weeks, she started to see improvement as the hair on her bald patches and edges slowly grew back. At Equi Botanics, we've carefully selected our product ingredients with intention. 
The Babassu oil in our deep treatment masque heals scalp issues, the Murumuru butter reduces breakage, and Andiroba oil nourishes hair. It also contains elements such as vitamin A, B, D and E. The sweet almond oil, lavender oil, and Baobab Tree protein found in our cleanser also work to stimulate hair growth and promote hair damage recovery.
We advised Rosemary to use these products weekly on wash days for the first couple of months. After sticking to this, she introduced the Marula Oil Leave-in conditioner into her regimen.
'I felt like I was learning how to look after my hair all over again. For example, I always wondered why my two daughters, who have natural afro hair, spritzed the hair before applying moisturiser (I call it watering). I now understand our hair constantly needs moisture, and this is how to retain it. So I bought the Marula Oil Leave-In Conditioner as well.'
From Good Results To Great Results 
We were over the moon when we heard about Rosemary's progress so far but, things really accelerated after she started using our Black Seed Hair Elixir! Since introducing her to this, the bald patches began to disappear, and her hair grew faster than ever before. 
' I believe the Black Seed Hair Elixir has made the biggest difference. I recently started using the elixir daily, and the speed at which my hair is growing is unbelievable. I can do protective styles, so my daughter has been braiding my hair after every washday.'
Our Black Seed Hair Elixir is the latest addition to our range of products. We crafted this serum to help you reach your hair goals faster. This versatile elixir is an intensive mix of 33 potent oils, actives, and herbs formulated to help address all hair problems and help achieve longer, more robust, and thicker hair.
'The hair growth has indeed been a miracle for me, and I feel my confidence is coming back! Now I believe my hair can grow if I keep doing the right things. For anyone thinking of using Equi Botanics, I would wholeheartedly encourage them to do so. It's 100% worth trying.'
We can't wait to see what's next for Rosemary. We've followed her journey for almost eight months and seen how consistent she's been through the hurdles she's faced, so we know hair success is on the horizon for her.
Did you find this post helpful? If you're currently struggling with hair loss or have any questions about this, please get in touch.
Email us at info@equibotanics.com or reach out to us on our Instagram @equibotanics.
And if you have an Equi Botanics Hair Transformation story to share, don't be shy, email us at info@equibotanics.com with (Your name: Equi Botanics Hair Transformation) in the subject line.