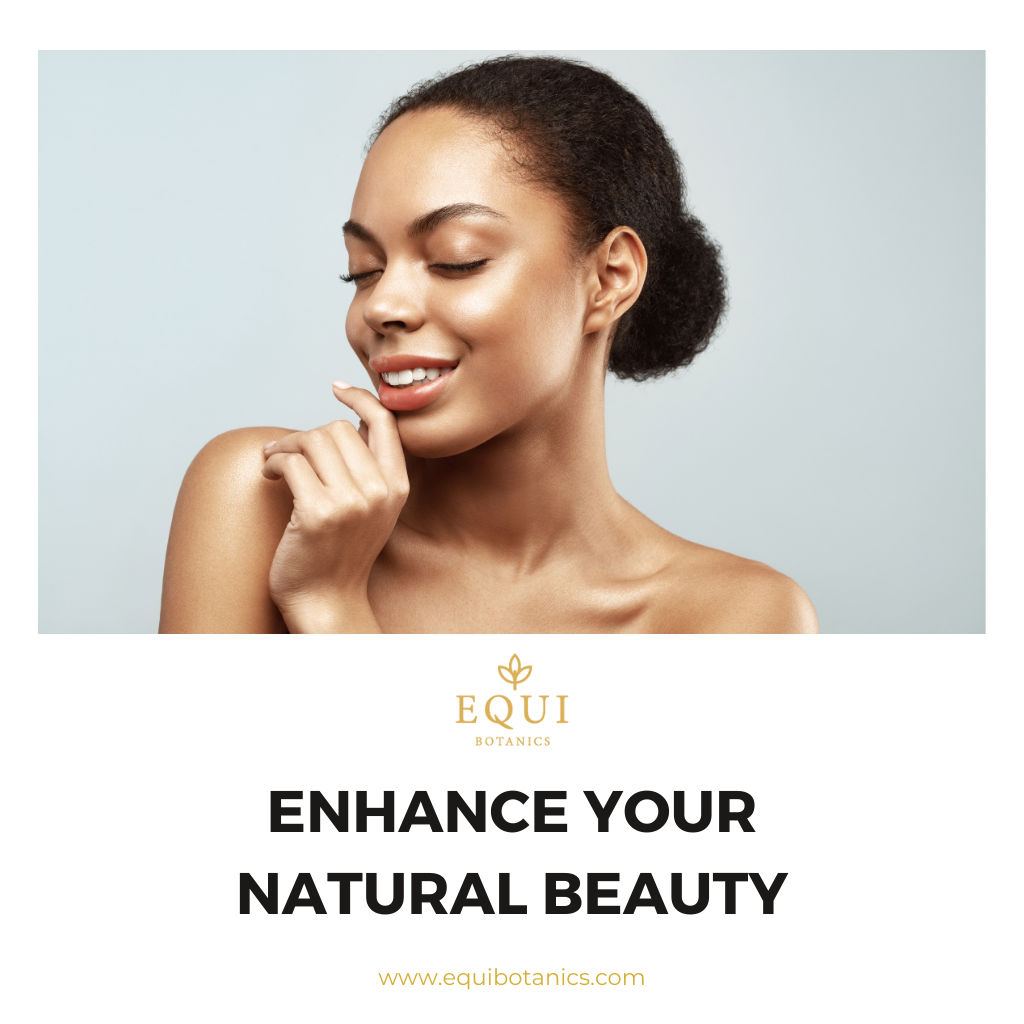 Enhance Your Natural Beauty
Natural beauty is a concept that sadly isn't as popular as it should be. Many people merely associate natural beauty with a makeup or wig free day, but there's more to it than that. Ekwy Nene, founder of Equi Botanics, shares more. 
Natural beauty is a concept that sadly isn't as popular as it should be. Many people merely associate natural beauty with a makeup or wig free day, but there's more to it than that. Ekwy Nene, founder of Equi Botanics, shares more. 
'Many years ago, while using hair extensions and knowing little about healthy hair practices, I lost hair at the crown of my head. After trying so many things, I found the answer in nature - natural plant ingredients for her hair, supplements, teas, meditation, and eating wholesomely.
As a mother of two daughters, my mission is to use my story to inspire people to embrace their natural beauty from the inside out. This is always the first step to acknowledging that you are beautiful, whether your hair type or skin type. And nature has everything we need.'
Your hair and skin reflect the nutrients they receive from your diet, hair and skincare products too. Equi Botanics and Pukka define natural beauty as falling in love with your beauty and it starts from the inside out. 
'We create a pure, wholesome and exquisite range of vegan hair care products. Each product's contents are exclusive to botanical ingredients, formulated to be luxurious but light enough to disappear on application, including many of which you will find in Pukka teas & products such as nettle, castor oil and aloe vera juice!' 
Beauty for all skin and hair types 
There may be times when we feel less beautiful than other times. We may be scrolling through social media and thinking everyone else is prettier or has it all together, even though we know it's only a 3% highlight of reality. The crazy thing is someone somewhere always thinks we are beautiful! So let's embrace that thought process instead. 
'With our different shades and textures, all of us make up the beautiful palette of the planet, and without you or me, we wouldn't have that! My mission is to inspire natural beauty through natural ingredients in our hair products and hair regimens.' 
Natural beauty hacks and product recommendations
Now, get to know our products, what's in them and how you can combine them to get the best natural beauty treatments from the inside out. We can't wait for you to try them!
Black Tea Hair Rinse
Black tea rinse is an excellent DHT blocker! DHT (dihydrotestosterone) is a hormone that causes the shrinkage of hair follicles, leading to hair loss. The caffeine in green or black tea blocks this hormone both topically and when you drink it. 
Wash your hair and scalp first with our Baobab Cleanser and follow with a black tea rinse. If you're experiencing hair loss, be sure to try this out with one or two tea bags. Always use a clean, freshly washed scalp. And rinse afterwards with water only.
Note that too much caffeine can dry out our hair and skin, so only use, say, twice a month, and once you notice less hair loss or shedding, stop. And always combine with a deep treatment because dry hair will cause hair breakage.)
Babassu Deep Treatment Masque
This deep treatment was formulated so that you only need to use it once or twice a month. Say you've got hair colour which can be quite drying for the hair or have some hair damage, split ends, this deep treatment is jam-packed with the following Amazonian rainforest butters and oils:
Babassu (great for locking in moisture without relying on silicones), 

Tucuma (great for detangling, contains antioxidant polyphenols for fighting free radicals, 

Castor oil (containing ricinoleic acid boosts scalp blood flow, helping hair growth),  

Andiroba oil ( containing Palmitoleic fatty acid, great scalp healer, and hair conditioner without the greasy feel), 

Baobab tree protein (brimming in Vitamins A, D, E, and F and infused with a deep dose of amino acids - lysine, leucine, ar

ginine and loads more to repair hair and recover from damage), 

Lavender ( to soothe and relax you on wash day) and 

Maychang so a little goes a long, long way.
Use along the hair shaft, massaging in and leave on for about 20 minutes. Then rinse to reveal soft, bouncy, elastic hair, resistant to breakage.
Blackcurrant Beauty Organic Tea
While your hair is in a shower cap with the black tea rinse on your scalp and the Babassu deep treatment in your hair, why not make a cup of Blackcurrant Beauty tea! 
Marula Oil leave-in conditioner
Our amazing best-seller, the Marula oil Leave-in Conditioner, is great for protecting the hair from the elements. It's fully loaded with the following benefits
Aloe Vera Juice - a great hair conditioner known for its hair growth properties (also available from Pukka to drink, so it works from the inside!) 

Nettle (found in Pukka teas!) is rich in silica and sulphur, helps in hair regrowth, shiny hair and is also a DHT blocker!

Marula oil is a lightweight oil, prevents moisture loss, and repairs hair cells from the inside.

Horsetail, containing the most silica in the plant kingdom, improves hair elasticity and helps the scalp regenerate!
Aloe Vera Juice
Organic Aloe Vera Juice is beneficial for the liver. This helps in its ability to heal the skin and reduce acne, eczema and psoriasis. It is a potent cleansing and rejuvenating elixir. Pukka's organic Aloe Vera juice does not contain the synthetic potassium sorbate or sodium benzoate as other Aloe Vera juices may do. So you need to store it in the fridge and consume it within three weeks.
Benefits of Aloe Vera Juice:
Heals skin and reduces acne eczema and psoriasis

Constipation and slow digestion

Inflamed gut and IBS

It supports the immune system and detoxifies.
 Black Seed Hair Serum Elixir
Containing a potent combination of 33 Ayurvedic, Amazonian oils and Caribbean and African oils (Castor oil is here too!), including a patented ingredient to speed up the absorption of these herbs into the scalp, I use this for the following:
Hot oil treatment to strengthen my hair against breakage

Scalp massages to help hair growth and help reverse hair loss

Split ends prevention by massaging the ends of my hair

Strengthen the hair shaft
 Castor Oil
It's high level of ricinoleic acid, vitamin E and essential omega-6 helps increase circulation to the scalp, improving hair growth more than the average rate.
Castor oil comes from pressing castor beans from the castor oil plant. 
''I use it as a base for the Black Seed Elixir because it's fantastic for hair growth. It's said to be Cleopatra's beauty secret, so we're in good company! Castor oil can also be used to soothe inflamed skin and grow back eyebrows !"
Love what you're reading? Enjoy Ekwy's advice on the regular straight to your inbox. Subscribe now to get instant digital access to the latest posts!