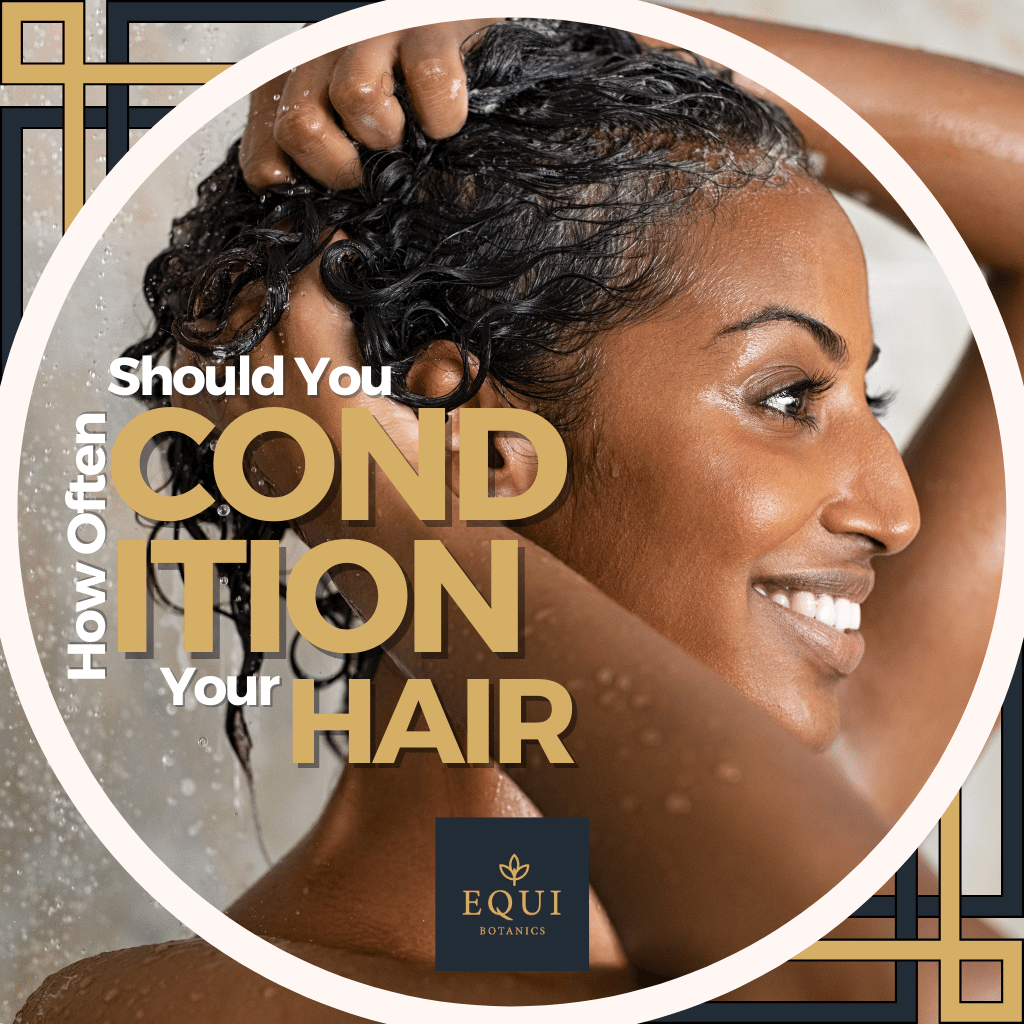 How Often Should You Condition Your Hair?
Take the Hair and Wellness Quiz
Take our 60 second quiz and unlock the
answers to achieving the hair you dream of!
Take The Hair Quiz
× close
We all know how important a part conditioner plays in our haircare regimes for that soft, glossy finish everyone wants to achieve, however, conditioner isn't just for beautifying hair. Some common misconceptions around conditioners are that you can over apply it, it weighs hair down and can make it greasy quicker. You'll be pleased to hear that's not entirely accurate!
Conditioner is good for hair, and it is essential to apply it to your locks every time you wash it to provide it with essential strength and nourishment that is key to maintaining that healthy, shiny look. It is important to invest in a high quality conditioner that suits your hair type to avoid that dreaded weighty and greasy feeling that some products can leave behind.
What does conditioner do?
Essentially, think of conditioner as a moisturiser for your hair. It works to strengthen and repair your tresses by locking in moisture as well as repairing damage from products, heat application and environmental factors. Conditioners can work to reduce frizz as well as increasing hair elasticity which means less breakages!
Is it okay to condition hair every day?
The answer to this is simple, if you wash your hair every day then yes! You should absolutely be conditioning your hair every time you wash it.
Shampoos tend to be drying, especially if you use a chemical based one. We would highly recommend you switch to natural hair products to avoid all those nasty sulphates. Using chemical based products can be a big cause of many hair complaints including dry hair and knotting but as the main aim of their game is to wash out all the grime, they can also be guilty of stripping hair of natural oils and moisture at the same time. That's where your conditioner comes into action!
Applying a rinse out conditioner after every wash will keep your locks in tip top condition and give it the moisture it craves but there are also a variety of other conditioning products which will help to support the job that your rinse out does.
What type of conditioner should I use?
When thinking of conditioner, we may instantly think of the standard rinse out edition, however there are a whole variety of conditioners now that are based on hair types and complaints and can be used at different stages of the hair washing process.
Rinse out conditioner
Rinse out conditioner is by far the most popular and well-known choice when it comes to conditioning products. It is an excellent, instant rehydrator that smooths hair cuticles and helps to detangle locks.
Leave-In Conditioner
As the name suggests, leave-in conditioner doesn't get washed from the hair. This type of conditioner would be best suited to those with dry or damaged tresses. It is best to stick to this type of conditioner just once a week for straight hair but reapply to curly and afro hair as often as you feel your locks need. We would recommend 3-4 times a week in a dry climate. Our Marula Leave-In Conditioner is a great choice for repairing split ends, nourishing dry, frizzy hair as well as encouraging hair regrowth (marula oil is known to support growth) due its naturally active ingredients.
Deep Conditioner
A deep conditioner is any type of treatment that is left on for 30 minutes or more and then rinsed out. They are designed to restore moisture and nourishment back to the hair and scalp. We refer to our Babassu Oil Treatment Hair Masque as the "mother of all deep conditioners", thanks to its deeply moisturising qualities. It's an intensely rich product that works so effectively, it only requires application 1-2 times a month, saving you some pretty pennies in the process!
Cleansing Conditioner
Cleansing conditioners are a variation of rinse out conditioners that are supposed to eliminate the need for shampoo as they do both steps in one. They tend to be lighter than many other conditioner types making them an alternative for those with particularly oily or fine hair. However, we don't usually recommend them at Equi Botanics, because they can clog up the cuticles, by not raising them when washing.
Spray Conditioner
Spray conditioners are quite often known as detangling sprays. With a similar concept to leave-in conditioners but in a lighter, more liquid format, these can be applied to wet or dry hair. Particularly great if you suffer with dry, knotty locks, these sprays make it easier to brush through whilst also preventing breakages and maintaining the condition.
Dry Conditioner
Another spray design, but this product applies as a fine mist (similar in concept to dry shampoo) that's designed to refresh, rehydrate and smooth frizz. Application of this tends to give that same soft and silky finish that a rinse out conditioner would give post styling.
How often should I condition my hair type?
Hair texture and structure varies from person to person and therefore, so does the way you maintain your hair. Tailoring your regime to your hair type is important as the needs of someone with straight, fine hair are not the same as those with thick, curly locks. Whether you have short or long hair, you should be conditioning with every wash but the type of product you use will be dependent on your hair type.
An important step for all hair types is to apply a deep conditioning treatment regularly, try our Babassu Deep Conditioning Treatment Masque or the Black Seed Oil Hair Elixir which makes a great hot oil treatment, pre-wash, and can be applied weekly.
Here's our advice based on hair type:
Fine Hair
Those with fine hair are often concerned that applying conditioner will weigh down hair and increase greasy appearances. Whilst this is little more than a hair myth, it is important to select a lightweight formula that won't leave residue behind. If you have fine hair, you should still condition your locks every time you wash them but look for products that encourage volume and body as these tend to have a formula more suited to this hair type.
Frizzy Hair
Those with frizzy hair tend to have more porous locks meaning it will soak up more moisture from the atmosphere, giving it that out-of-control texture. It can also be a sign that you aren't conditioning enough. It is important to apply conditioner to soaking wet hair as this additional moisture helps hair to absorb the product and reduce further frizz.
Afro hair
If you have afro hair, it will require regular deep conditioning to keep it looking healthy. If your hair is damaged, we would recommend deep conditioning weekly, but this can then be reduced to 1-2 times a month once it is in a better condition.
Dry, damaged hair
Dry, damaged hair can go longer without being washed but needs conditioning more regularly so it might be a good idea to go for a cleansing conditioner in this instance as it allows you to give your hair the nourishment it needs without over-shampooing it in the process. On the days you do apply shampoo, choose an intensively nourishing conditioner with moisturising ingredients such as argan oil.
Coloured hair
Colour treated hair is more likely to become damaged as a result of the chemical process hair is exposed to within these treatments. Keeping hair moisturised by applying a hair mask after every wash will help to restore damaged hair but also encourage colour to last longer due to its more nourished condition.
Curly hair
Like afro hair, curly hair can also benefit from deep conditioning as it is more susceptible to dryness. The natural shape of curled locks makes it harder for your hair's natural oils to travel down the shaft. Without sufficient conditioning, curly hair can be more prone to frizz and lack definition. Use a moisture rich conditioner every time you wash your locks.
How do you know if your hair is over-conditioned?
There is no doubt that conditioner is essential within your hair care regime but like many things, it is possible to overuse, in the same way that you can shampoo your hair too much. How often you shampoo and condition is going to be based on many factors ranging from hair type to environmental factors. Reasons more frequent washing may be required include:
     

Working out

     

Regular exposure to air pollution

     

Oily hair type

     

Hot weather

     

Over washing

     

Frequently touching hair
Signs that you are overwashing hair and therefore over-shampooing and conditioning include excessive shine, decreased volume and bounce, greasy and oily hair as well as difficulty in styling.
Frequently Asked Questions
How long should I leave conditioner in my hair?
On most rinse out conditioners the standard time to leave conditioner on hair for is around 1-2 minutes but it is fine to leave on for longer as the way they are formulated means that they continue to perform after the first few minutes.
With treatment conditioners, they will need to be on the hair for at least 30 minutes- generally, the longer you can leave these treatments, the better but some will specify that they need washing after a certain length of time. With our treatments, both the Babassu and Black Seed Oil, can be left overnight but try not to do this to often in order to avoid hygral fatigue, if desired, for an intensely nourishing and restorative treatment.
It goes without saying that leave-in conditioners don't get rinsed off but the same also applies to any dry conditioners and detangling conditioner sprays you may use. These are a great way to support the work that's been done by your rinse out conditioners.
Why is my hair not soft after using conditioner?
There are several reasons that hair might not be soft despite using conditioner including not washing it regularly enough, product build up, using the wrong products for your hair type, seasonal changes and hair porosity. Read more about dry hair after conditioning here.
Final notes
How often you are conditioning your tresses will depend on your hair type but it is important to remember that you must condition your hair every time you wash it to keep on top of moisture levels and to maintain that all important shine.
Armed with your new found hair knowledge, you can be sure that conditioner is an essential part of your hair care regime. Rest assured, it's not going to weigh down your locks or increase the greasiness but it is going to give you healthier tresses with softness and shine that will leave you the envy of everyone.